You could spend a thousand hours in Kissimmee and still feel like it was too short, there's so much to see and do there and that's before setting foot anywhere near Walt Disney World Resort! We've put together an itinerary for 72 hours; it's filled with fun for the whole family – if you've been to Disney before and fancy experiencing something different, this itinerary is perfect for you.
DAY 1
Celebration
Start your three days by taking a wander around the beautiful town of Celebration. It's located pretty close to Walt Disney World Resort and was originally developed by The Walt Disney Company and residents were under strict instructions to keep their homes looking a certain way and all had to look the same to comply with Walt Disney's rules. Those rules certainly paid off though as the town is simply stunning, it really does look like something out of a fairy tale. Why not hire a bike and explore the picturesque neighbourhood that boasts world-class architecture, exciting wildlife and scenic trails before heading to the vibrant downtown. Find beautiful brunch spots serving up delicious food, quaint shops that are mostly owned by independent businesses and a lovely lake to take a wander around. We couldn't recommend this more if you're looking for a relaxing morning exploring Kissimmee.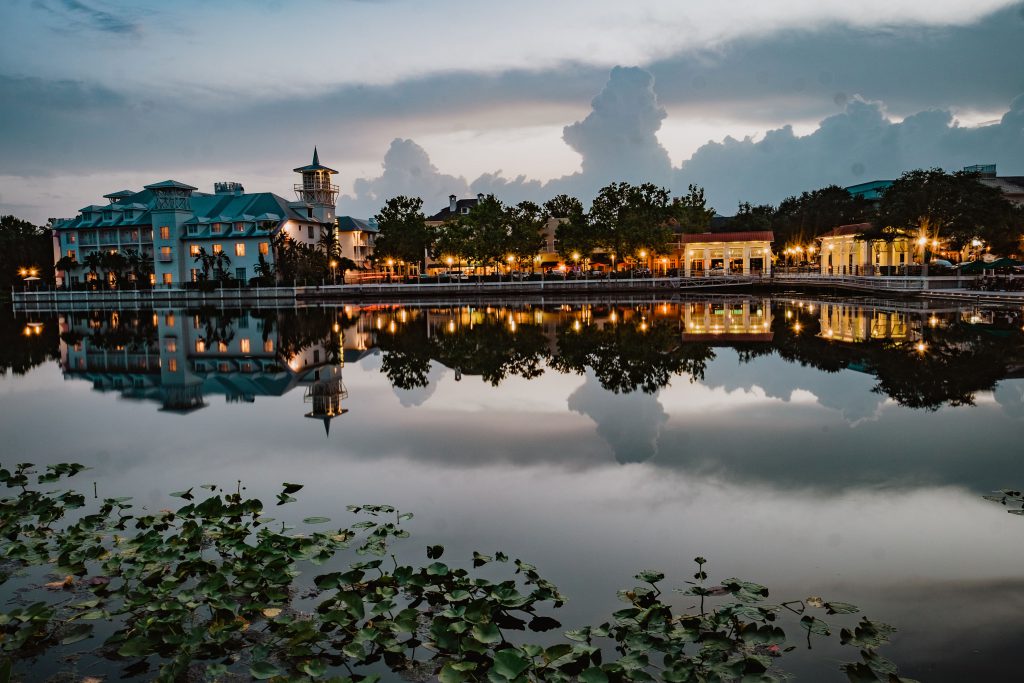 Fun Spot America
Fun Spot America has two amusement parks in Central Florida, one on International Drive and the other in Old Town Kissimmee. You can enter the park for free, but if you want to enjoy any of the rides, you will need to pay for a wristband that lasts all day and includes same-day entry – with the park being open until midnight, this is a great incentive.
This amusement park has free parking too, which is a great bonus as most other theme parks in the area tend to charge. Expect shorter queuing times at Fun Spot America Kissimmee too, so you'll be able to go on your favourite ride again and again, it's a great thing to do with the family and you can come and go as you like for the whole day so how much time you spend here is completely up to you.
It has a relaxed atmosphere and the rides are very good, they have a wooden roller coaster and the World's tallest skycoaster (300ft), which we can tell you from first-hand experience is the most terrifying and thrilling thing we've ever done!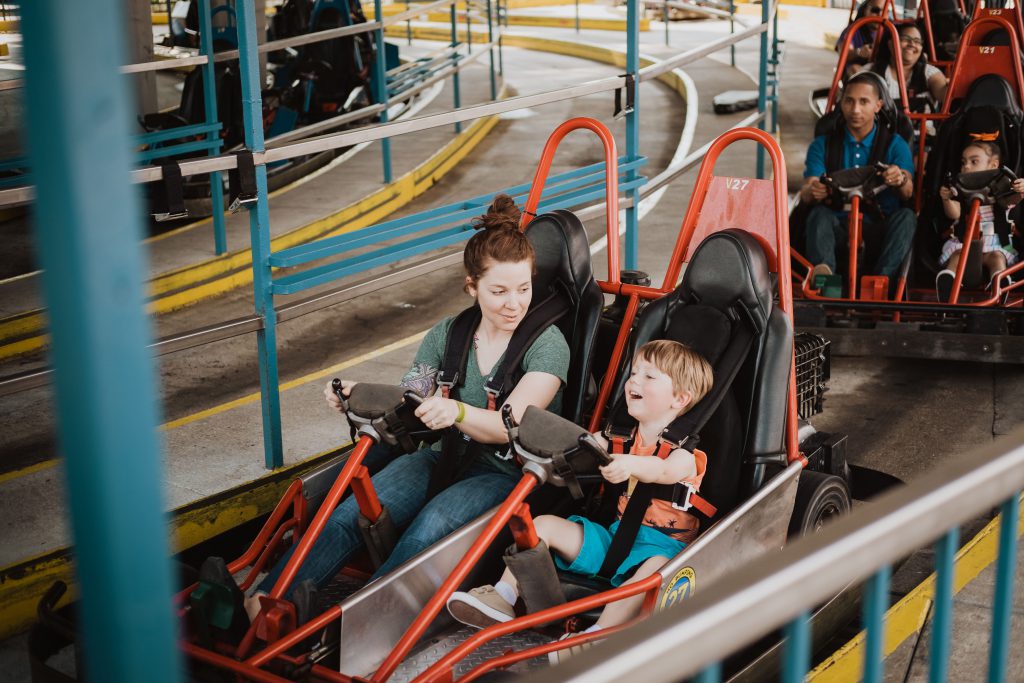 Old Town Kissimmee
If you need a little break from all the fun at Fun Spot America Kissimmee, then next door is the standout Old Town. It's filled with vintage-style shops that sell everything from NFL souvenirs to classic hot sauces to old heritage souvenirs. It's a really nice place to walk around and explore, don't forget to pop into one of the bars there, why not stay for dinner too?
If you head down to Old Town on a Friday, prepare to be amazed as there is an incredible procession of vintage cars, from sports cars to trucks and more. You'll have the chance to take a look at all the cars, as well as a chat to the owners (if they are by their cars at the time) and eventually watch as they take a slow drive around Old Town.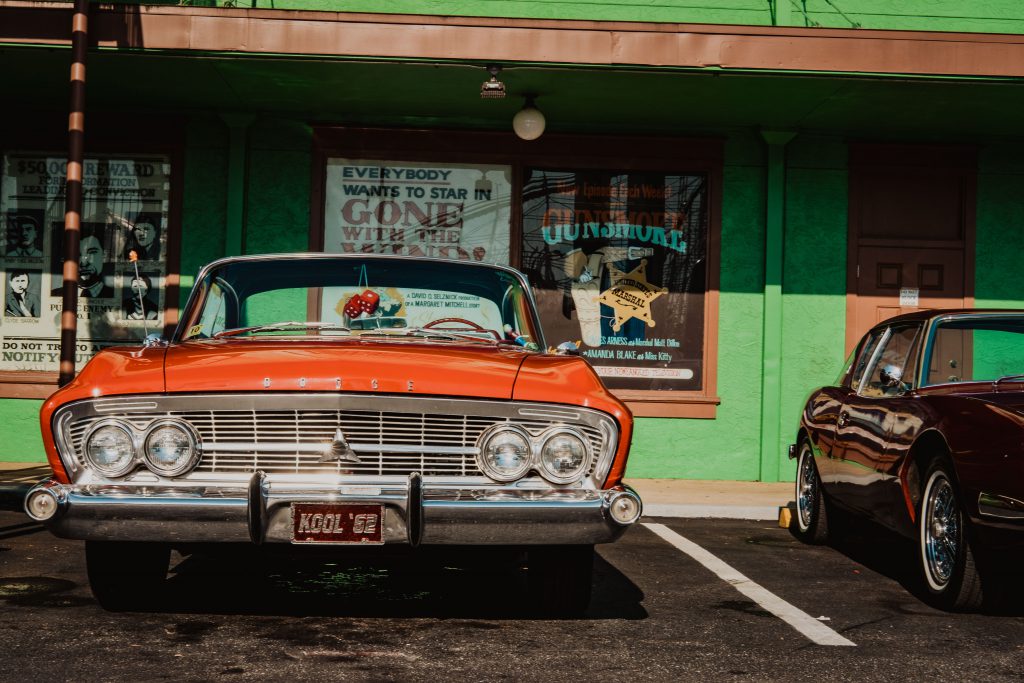 DAY 2
Gatorland
Gatorland was the first theme park to be built in Kissimmee and is still going strong today. It's family feel runs all the way through the park and it's a great to spend a morning or afternoon here. The experts there are so passionate about the gators and this shines through all across the park.
The park is a huge 110-acre and is home to more gators than we could even count! The Screamin' Gator Zip Line is the only Zip line in the USA that has disabled access and can reach speeds of up to 35-40mph! You hurl yourself across open water wearing a helmet and zipping over live Alligators who love to come and watch – it's so thrilling!
Be sure to book an Adventure Hour if you want to get up close and personal with the alligators, you'll be taken waterside where you will have the chance to hand feed the gators. You are typically given a piece of meat that you'll then throw to the gators and watch them chomp it down.
Check out our video below where you'll see Chester (one of the resident gators) showing us his snap!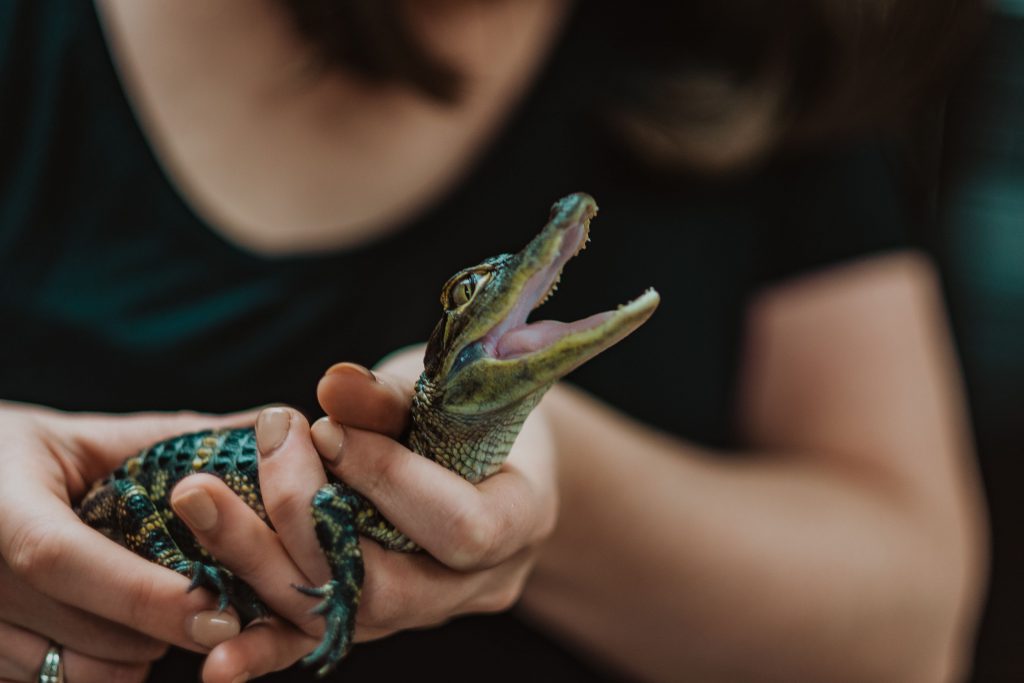 Medieval Times Dinner & Tournament
If you want dinner with some incredible entertainment then head down to Medieval Times Dinner & Tournament in Kissimmee. It's absolutely an event to take your children to; you're involved from the very beginning when you are given a flag that represents the knight you'll be supporting for the evening.
During the evening, there are several jousts that take place while you eat and drink. The knights are very interactive with the audience, getting them to cheer and even throwing roses to some lucky ladies or guys in the audience! The costumes are amazing too, there's definitely a lot of effort that goes into it and it pays off.
The venue itself is designed to look like a medieval castle and you are served a traditional medieval dish. An example of this is tomato soup to start, chicken and potato for main and cake for dessert. The food was lovely, fresh and hot but it's worth noting that keeping up with the medieval theme, there's no cutlery so customers may want to consider bringing their own if it's an issue.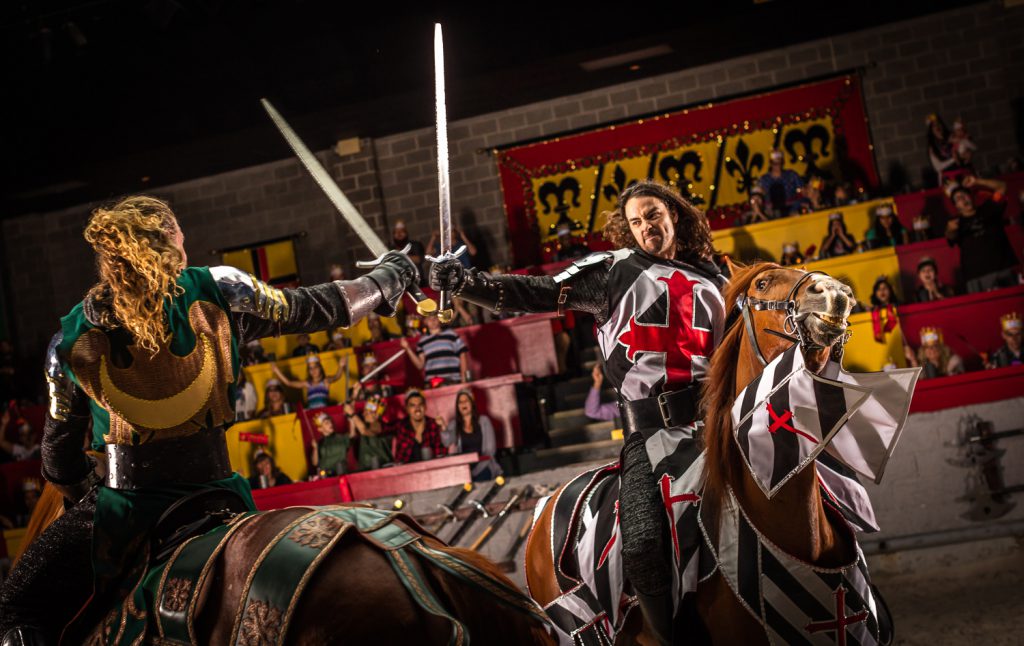 DAY 3
LEGOLAND Florida
Take a trip to LEGOLAND Florida and be amazed by the design of the park, why not try count how many LEGO bricks are used throughout the park? It's open from 10am-6pm every day and boasts over 50 rides and even a waterpark! If you want to try and visit both the waterpark and the theme park, we'd recommend you buy a two-day ticket so you don't rush around trying to get on everything in one day.
Be sure to check out LEGOLAND Florida classics such as the Driving School and the Dragon Ride as well as some brand new features to Florida which include the Safari Trek and the thrilling The Great LEGO Race which combines a roller coaster with virtual reality technology to transport guests to an exciting road rally where the laws of physics and aerodynamics are completely thrown out the window, it's a must when in LEGOLAND Florida!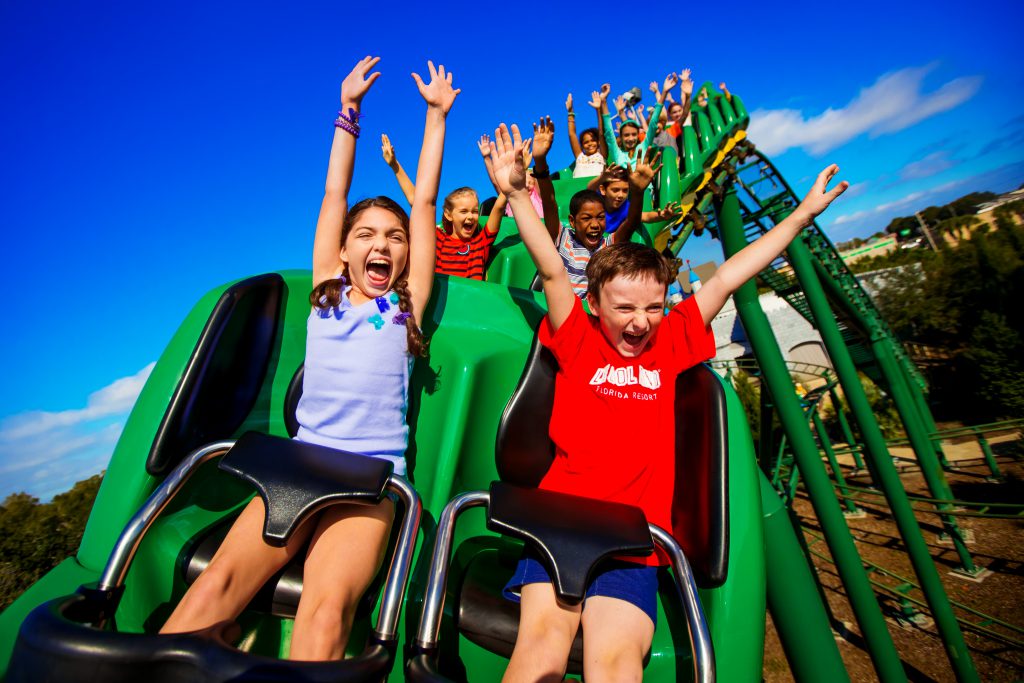 Boggy Creek
Boggy Creek Airboat Adventures gives you a taste of authentic Florida.  Located in the headwaters of the Everglades, this is a fantastic place to go and try and spot some gators while aboard a huge airboat!
The airboats are great fun, there's no set route but the guides know where to go looking for the gators but make it clear to guests that seeing them isn't guaranteed.  Whether you see gators or not, it's worth taking the trip just for the tranquillity and serenity of the place.  The silence really was golden here and we couldn't recommend it more to anyone.  We only saw one baby gator while we were there but we think it's because it was quite chilly and it was getting dark.  The sunset rides are fantastic for beautiful sunset views over the headwaters of the Everglades but unfortunately you are less likely to see gators then as they love the sun as much as we do.
Following the airboat ride, you have the chance to visit the Native American workshop, which is hosted by a very informative Native American who gets you really involved in his stories. It's fascinating to listen to and there are even some authentic Native treasures to take a look at there.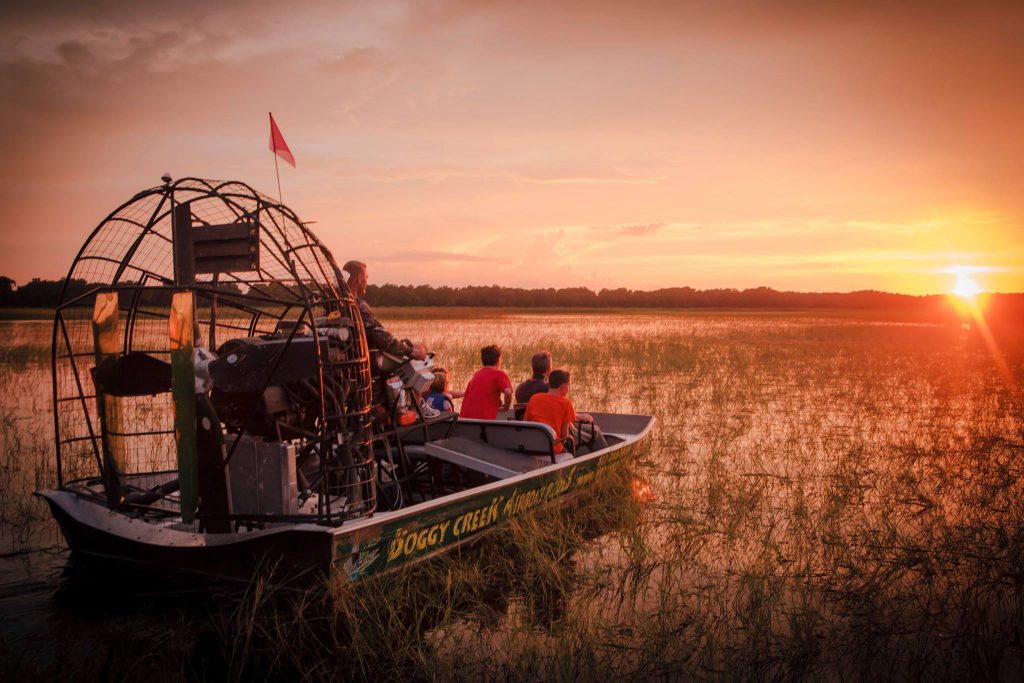 What's your favourite thing to get up to in Kissimmee? Let us know in the comments or on our Facebook or Twitter!