Who doesn't love a good game of mini golf? It's a fantastic activity that is suitable for all ages and skill levels making it a great way of spending a few hours with the kids and miniature golf in Orlando is extremely popular. If you're looking for a different holiday to Florida, there are so many mini golf courses to discover with different themes and interesting holes to pot; at Holiday Genie we've come up with some of the best mini golf in Orlando that you should definitely try out with the family.
Hollywood Drive-In Golf at Universal CityWalk
Universal's CityWalk is upping the game of mini golf with Hollywood Drive-In Golf which is considered one of the best mini golf courses in Orlando. There are two courses available, one with an old horror film theme and the other that is themed like the 50's sci-fi films. It is a great option for the adults with many in-jokes and gags from some of the most famous films. This course is good fun in the day and is completely transformed at night with amazing lighting that creates an exciting mini golf course for all the family.
Putting Edge Glow
If you find yourself inside Orlando's Festival Bay Mall, be sure to head to Putting Edge Orlando which an extremely unique mini golf course in Orlando; it's not hard to see why families love it so much. The glow in the dark course isn't too challenging meaning it's a great option for all ages and the colours and intricate designs create a beautiful undersea adventure for everyone.
Disney's Winter Summerland, Orlando
Nobody can beat Disney at miniature golf courses in Florida. At Winter Summerland there are two different experiences into one, you can either play on a winter-themed course or a summertime course. It's a fantastic way to relax and spend a few hours with the kids outside of the thrilling theme parks.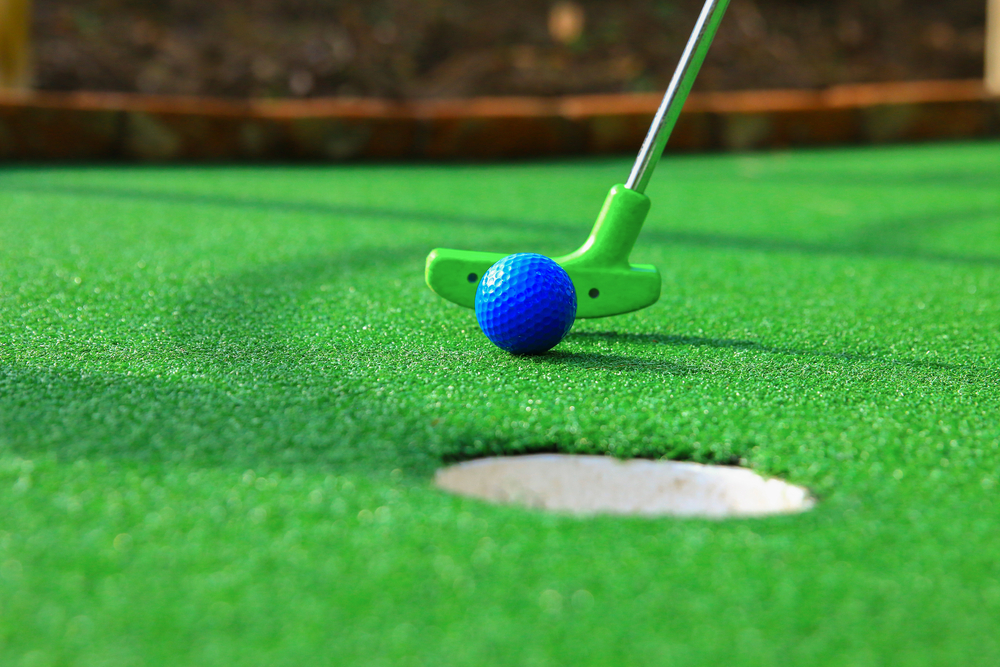 Smuggler's Cove
With multiple locations in Florida, the famous pirate themed Smuggler's Cove is a must for families. Think of pirates and what you can expect on a mini golf course, from pirate ships to real alligators – if you pot a ball in with them, it's probably best to just let it go. Nonetheless it's a great experience for all the family.
Congo River, Kissimmee
A lot of the mini golf courses in Florida feature live alligators and at Congo River you are even able to feed them! This African themed golf course throws you into the middle of the rainforest surrounded by waterfalls and caves. There are also plenty of other things to do for kids here as well as a scavenger hunt and an arcade right next door. That'll help burn the energy off!
There are many miniature golf courses in Florida and these are only 5 of Holiday Genie's favourites for being uniquely different. Taking part in mini golf is a small holiday activity that many families take part in and it's very easy to see why they're so popular. Which one will you try out on your holiday?