So, you've booked your tickets to a far-flung destination.  All that stands between you and your exotic beach holiday is a twenty hour flight.  What can you do to ensure that you arrive at your destination looking and feeling cool as a cucumber?
Well, there are a number of steps you can take to improve your flight experience.  We set out 8 long haul flight tips below.
Pre-book your seats
The bulkhead seats may have extra legroom, but there are some other tips too: if you want to sleep choose a window seat. Consider distance from the toilets.  If you are travelling with children, choose a window and aisle seat: no-one will choose to sit between you, meaning that as long as the flight is not full, you will probably have three seats to yourselves. (There are practical constraints: for example you will not be able to fly in the front row if you have an infant or a disability).
Plan your food
Check here for reviews on your airline's food.  It may be best to bring your own food.  An alternative is to order vegetarian, kosher or halal, since these have to be specially prepared several days in advance and are often served first.
Take on board plenty of fluids
We mean water: buy a large bottle once you get past the gate.  Stewards will bring round water regularly, but not enough to keep everyone hydrated for the whole flight.  As for tea, coffee and alcohol, well, everything in moderation.  All of these act as diuretics, which make you less, not more, hydrated, but on the plus side a small amount of alcohol can relax you and help you sleep.
Exercise
We know you are supposed to pace around the plane, but that often is not practical.  Consider some anti-DVT stockings, and do some exercises in your seat.  In addition, try to get in some exercise either the day of the flight or, if that's not practical, the day before. Same goes for kids, try to exhaust them running round the airport.  Exercise induces tiredness, and the best way to pass a long haul flight is asleep!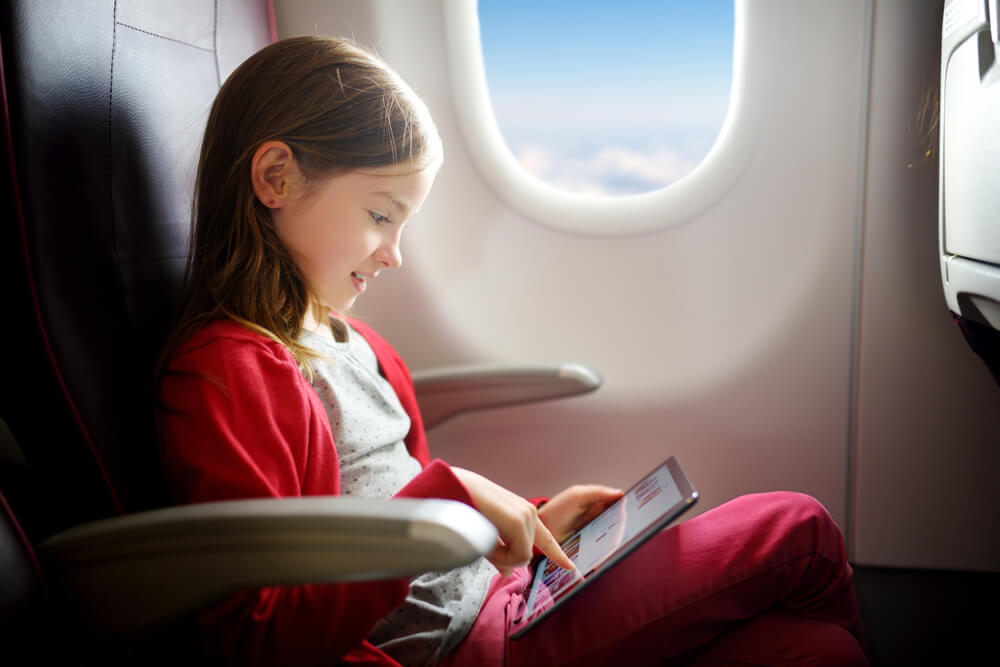 Entertainment
If you are wondering what to do on long haul flights, there is of course the inflight entertainment but we also advise you to load up your ipad or other portable device with the very latest  TV series and films.  Same with your e-reader – download all your holiday reading. Buy the latest magazines or newspapers at the airport.  Smaller devices are better than laptops– if the person in front reclines his or her seat there will be no room for a laptop. Bring your own (preferably noise cancelling, to drown out engine noise) headphones.  Kids will love some new toys which you bring out at a rate of one an hour.  Before you know it, you will be at your destination.
Adjust your body clock
Plan your flight so that it is direct to your destination, and fly overnight, arriving in your destination in the morning.  Once you arrive, don't nap: get out and about and experience your surroundings!  Hopefully by the end of the day you will fall into bed.
Get comfortable
Dress comfortably, but not so comfortably that you look like a bag lady.  You may want an upgrade (see tip 8 below). Take whatever you need to help you sleep, for example eye mask, ear plugs.  Don't bring too much hand luggage on board.  A small bag that you can stash beneath your seat is plenty (unless you have children, of course. Check out our tips for flying long haul with kids).
Upgrade
If I only had to give one tip for your long flight it would be this.  Arriving in New Zealand after a 20-hour first class flight, I barely even noticed I had been on a plane.  It isn't as easy as it used to be to get an upgrade.  However, the old rules about looking the part, mentioning any special occasions such as honeymoons, and checking in quite late, might be worth a try. For more tips, read our post on how to get a flight upgrade for free!
With all of these tips for long haul flights in mind, we are sure you will have a very comfortable flight, and of course a great holiday.