It would be wrong of you to enjoy your holiday in Florida without seeing any manatees. There are plenty of places to see manatees near Orlando and if you're in the area why would you want to miss out on the beautiful marine mammals. Holiday Genie has got all of the best places to see manatees in Florida so you don't have any excuse not to admire the mammals also known as sea cows.
Manatee Lagoon
The newly opened Manatee Lagoon at West Palm Beach is a free educational attraction and because the manatees are not kept in captivity, it is one of the top places to see manatees near Orlando in the wild. You can check out the mammals from the convenient observation deck which offers some of the best views to see the manatees in the warm waters. There are also hands-on exhibits, picnic area, cafe and parking so is a must-see attraction. Click here to check it out.
Blue Spring State Park
One of our favourite places for manatee viewing near Orlando has to be the Blue Spring State Park. It is a manatee refuge and excellent for viewing thanks to its half-mile boardwalk which you can walk down and see where the manatees congregate. Along the way, there is opportunity to learn about the history and facts about the mammals.
Crystal River's Three Sisters Springs
The Crystal River's Three Sister Springs offer a great viewing platforms and one of the best manatee tours in Florida. There is a walking boardwalk which is open to tours and you can also make the most of a guided kayak tour which allows you to get up close to the spectacular marine mammals at one of Florida's hidden secrets.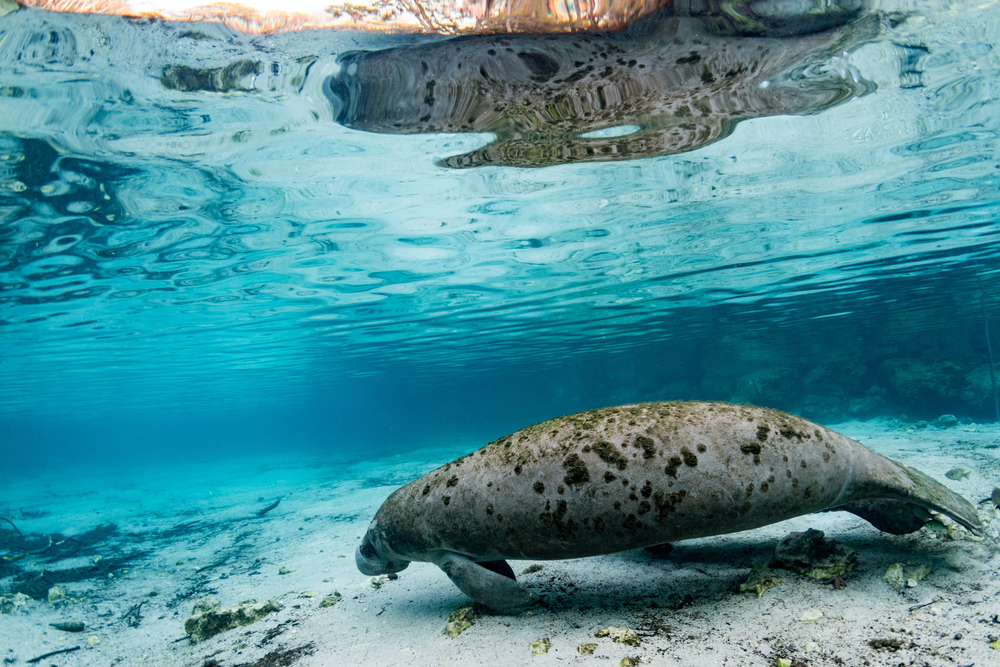 Manatee Springs State Park
During the colder months the manatees travel to warmer waters. If you're visiting Orlando during November-April we recommend going to Manatee Springs State Park; this is what links the Florida Springs to the other waters where they can be found.
Lee Country Manatee Park
One of the top things to do in Fort Myers is to visit Lee Country Manatee Park. It is located on a discharge canal and has boardwalks around the area so there are plenty of opportunities to view the fascinating mammals. You can also find guided kayak tours available here so you can get a closer look.
Epcot
Unlike the others we have listed, the manatees at Epcot are in captivity/rehabilitation so it won't be the same as seeing them in the wild. If you find yourself at Epcot they do have an exhibit for viewing manatees in Orlando. Head to "The Seas with Nemo and Friends" and you'll be blown with facts and the beauty of the marine mammal.
Manatees face many threats and are endangered creatures and you can help save them here. There are so many beautiful places to see manatees in Florida. We know you will fall in love with the marine mammal as quickly as everyone else does. If you want to learn more about things to do in Florida, follow holiday genie.com on Twitter!
Save