We know that you can either want a relaxing holiday or adventure holiday (or sometimes both) which is why in this post we wanted tell you why historic Kissimmee is such a wonderful destination.
We all want sun and fun when on holiday, but what if we told you that one place has all you could be asking for and at a great value? Why not choose the destination Kissimmee? As well as being the gateway to Disney, Old Town Kissimmee also has some hidden treasures that are affordable and fun for everyone; explore our range of great value Kissimmee holidays!
Florida has some underrated cities which we definitely think you're missing out. Kissimmee is a beautiful city, with a wonderful community. Alongside the attractions and fascinating history, it is also home to some fantastic restaurants and shopping outlets within Downtown Kissimmee that you should most certainly consider visiting.
A holiday to the city would not be the same without a visit to Old Town in Kissimmee. What if we told you that there are also many free attractions, so the destination is wonderful for a budget holiday!
Downtown Kissimmee is a hub of shopping, dining and entertainment complex near Disney. Of course admission is free, and it has plenty of kid-friendly rides (go-cars, bumper cars) haunted houses, themed restaurants, an arcade and with shopping opportunities to get souvenirs for your family and friends back home. Find out why Old Town Kissimmee is worth visiting: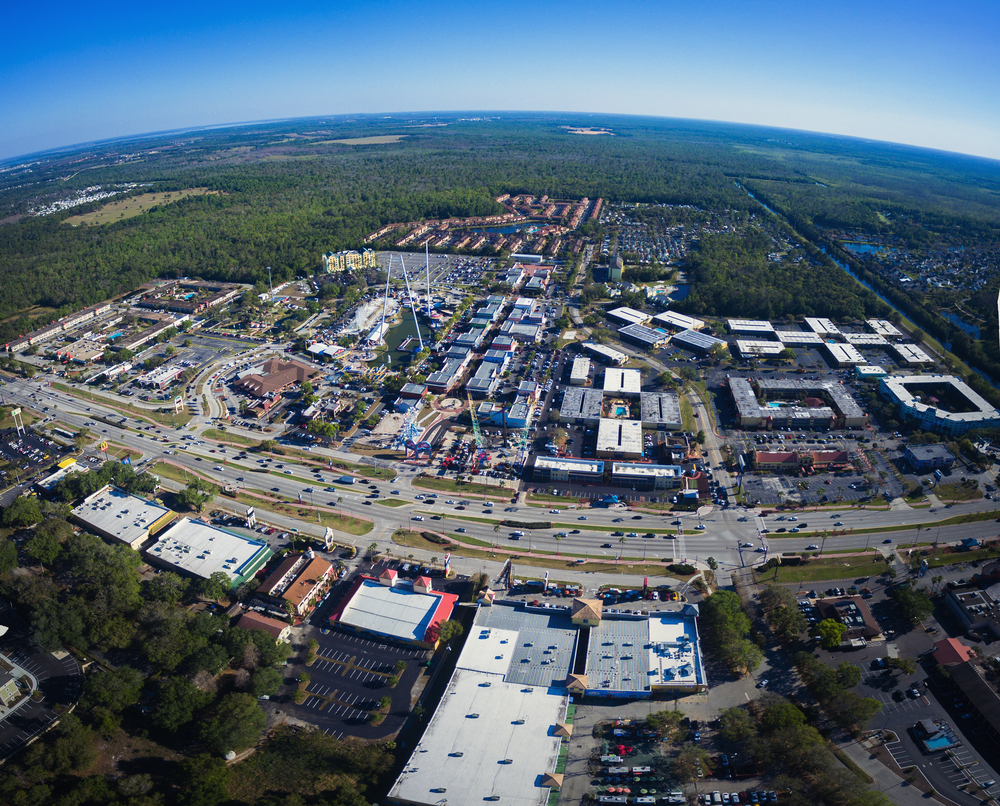 Something for the money savers
At the weekend, Old Town transforms into car heaven where you will be able to look at the finest and exotic cars you've ever seen. As well as this, there are seasonal events throughout the year and live music every night which transforms the streets into a lively party.
Head downtown for splashing the cash
Downtown Kissimmee used to be a former shipping town, however is now most known for its variety of shops and entertainment. The area has been transformed into a mix of historic and new family-owned businesses as well as boutique dining, one-off shops and lively nightlife. If you're looking for a hidden gem waiting to be found, discover Main Street, Broadway and Emmet Streets where you will be able to take a nice stroll down downtown Kissimmee.
If you're looking for a holiday on a budget, why not visit Lakefront Park? It is a 25-acre park where visitors can find legendary Monument of states, incredible architecture as well as a huge playground for kids and plenty of popular nature trails. But the best bit is free admission, meaning you can have a day of fun without spending any money.
It sounds fantastic so far, doesn't? But if you're feeling overwhelmed with all the things to do in Historic Kissimmee, you'll be happy even more happy to hear there is never a dull moment with an event always happening in the city. There is such a variety we can guarantee you will find something you will love in Kissimmee!
But it's not all about Old Town, with plenty of other attractions Kissimmee has to offer to keep you entertained for hours such as beaches, golf, historical sites & museums, Disney Springs which offer festivals, Spas as well as Osecola Center for the Arts just to name a few. But don't forget that Kissimmee is the Baseball headquarters so a trip to Spring Training is a must. If you're looking to cool off there are also a variety of water parks too!