Let's face it, every girl has watched a Disney film and dreamt of meeting her Prince Charming and having the most perfect wedding fit for a Princess… but what if we told you that getting married at Disney World is possible? Now you're probably imagining that the cost to get married at Disney World is too much, but do not fear… Holiday Genie is here to make sure you have the perfect wedding day and we have some fantastic money saving tips! Getting married will be sure to make your dream holiday to Disney World Florida the best trip of your life.
Everyone knows that a holiday to Disney is an once-in-a-lifetime opportunity that will give you plenty of memories to remember, and Disney offer beautiful fairytale weddings that'll make you feel like a Queen! They offer different packages to help make your wedding day the best day of your life; with packages including everything from venues, floral, cakes and entertainment, you won't need to worry about the planning because Disney will assist you in doing so.  With a personal wedding planner available, they will help make your day as magical as possible.
An incredible thing the Disney World weddings offer is the option of you arriving in a Cinderella Carriage… girls, if you've never dreamt of arriving at your wedding in one of those, you're lying.  Brides will arrive in a Cinderella's coach which pulled by ponies with a driver and two footmen will leave you feeling like a true princess. Everything you wish for on your wedding day is possible at your Walt Disney Wedding.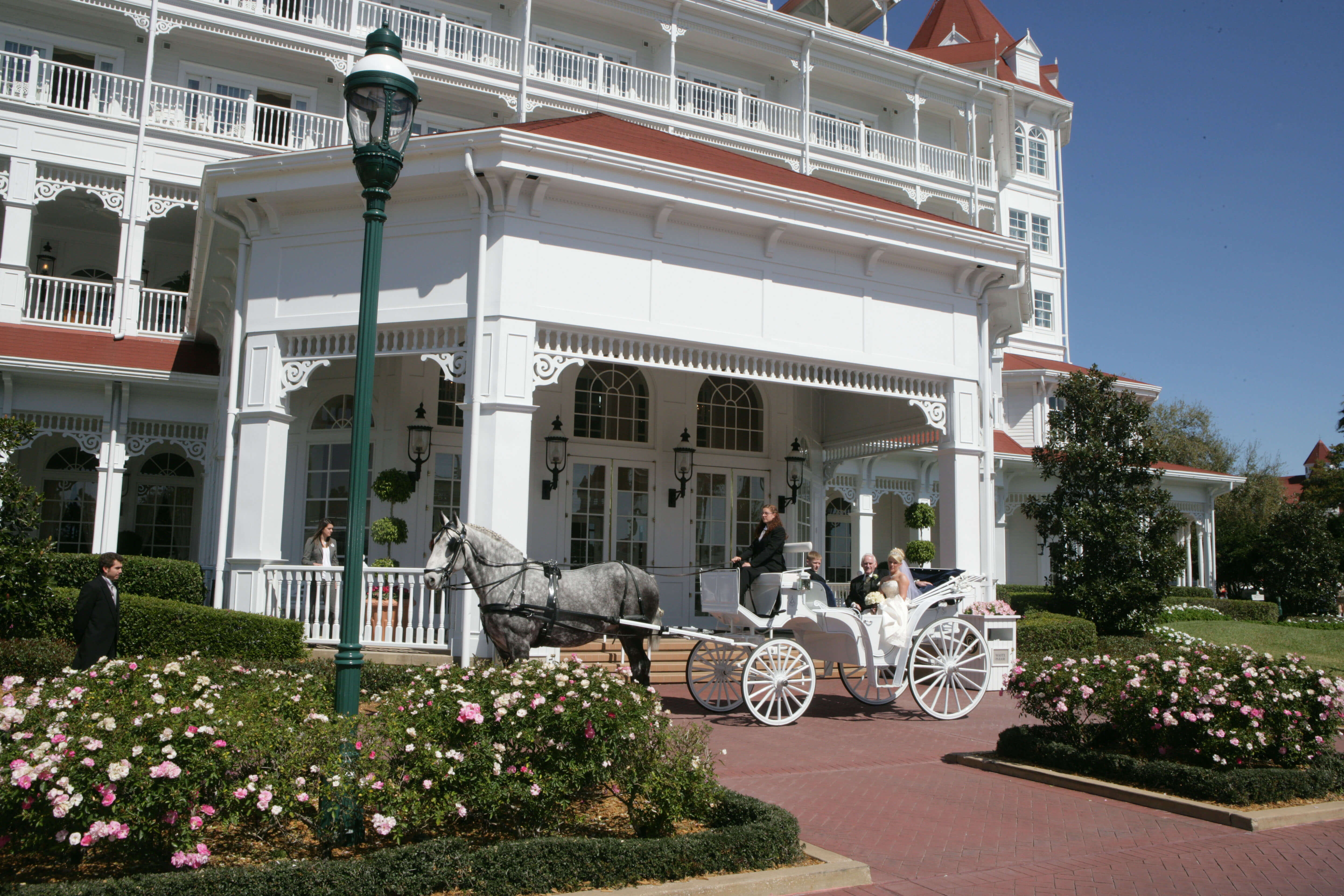 At the wedding reception, keep your eyes peeled for character sightings. Mickey might come along to say congratulations and have a dance with you, so for you true Disney lovers, getting married at Disney is something you've dreamt about for years.
Sounds like the perfect wedding day but don't worry about the cost to get married at Disney World. There is plenty of money saving tips to ensure your Disney Fairytale wedding doesn't cost too much:
Choose your date and time carefully – the minimum expenditures of weddings are considerably higher on the weekends after 12 p.m. Also remember the cost of hotels, meals and flights also vary so this will affect the overall cost
Don't expect your whole guest list to go – all of your guest list won't be able to get the time off work, or afford to go to Florida. There are different packages available for the amount of guests to come so Disney is flexible with this which makes things less stressful!
Apply for a marriage license online before you leave – it'll save you time, then you won't need to waste your precious Orlando time trying to find a marriage licence
With a Disney World wedding you can also make use of the events that already happen here, like the evening fireworks! Watch the sky light up with the firework shows (The Illuminations: Reflections of Earth or Wishes Nighttime Spectacular fireworks) with your loved ones – that'll sure be a fantastic thing to do at the end of your wedding day.
Everyone wants their wedding to be perfect and one to remember, and with Walt Disney World even offering beautiful weddings, you'll have a fantastic wedding day and feel like King  & Queen! Sit back, relax and join forces with Disney and let them help create the wedding day you've always dreamed of. Can Walt Disney World get any more magical, right?
Save