In the day, Dubai is a bustling and exciting city and really comes alive at night. With the city dazzling with lights and fountains putting on a show, you definitely won't want to get an early night while on your holiday package to Dubai. Exploring Dubai by night is definitely an unforgettable experience – you'll be mesmerized by the lights and show!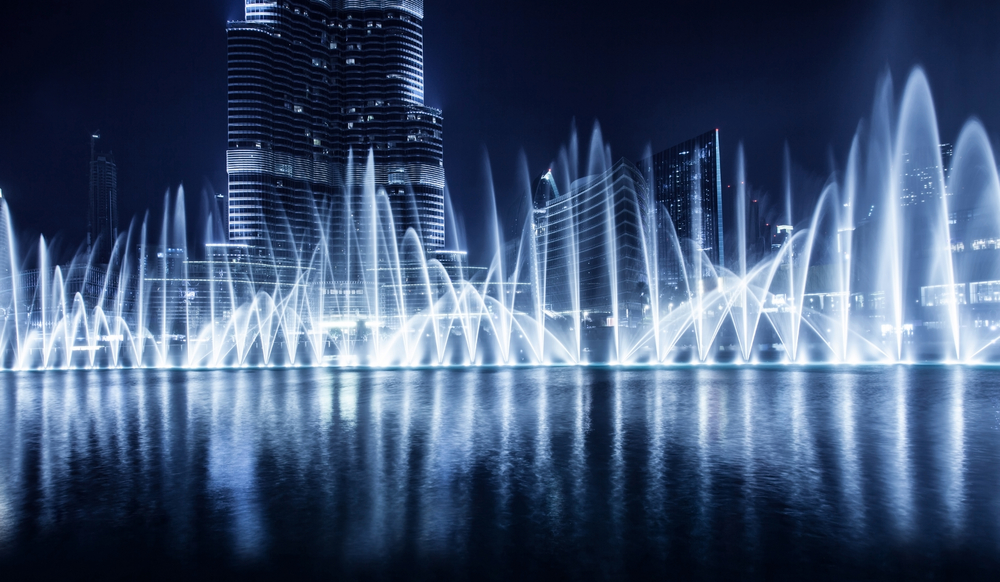 The Dubai Fountain
Thousands flock from all around the world to witness the Dubai water fountain and its special performance. It is the world largest choreographed fountain system that can be found on Burj Khalifa Lake. Evening shows happen between 6:00pm-11:00pm every 30 minutes, so if you're in the area it's definitely worth checking it out. The Dubai fountain show is perfectly synced with lights and music to really make it an exciting performance.
Burj Al Arab
This striking landmark gets even more beautiful in Dubai by night as dazzling colourful lights shine upon the Burj Al Arab. The popular landmark offers the perfect photo opportunity at night with it standing out in the skyline. You don't need to go to the top floor to enjoy this luxurious hotel, instead get the perfect location on the Jumeirah Beach and enjoy the beautiful colour changing lights.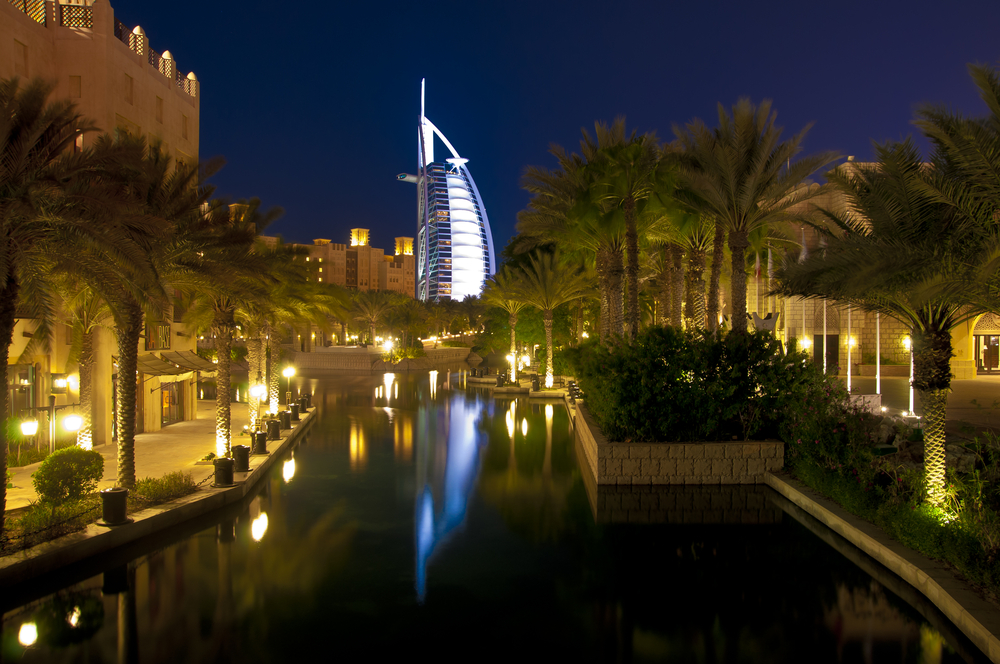 Burj Khalifa
To get the perfect view of the Dubai night lights, it's only right to head to the tallest manmade structure in the world to get a jaw-dropping view of the sprawling city. The Burj Khalifa itself is a beautiful array of dazzling lights to admire right behind The Dubai Fountain. Head to the top of this popular landmark and be blown away by what you see. The Observation Deck at Night lets you get a panoramic view of the city coming to life with lights! You don't want to forget your camera; check it out here.
Atlantis The Palm
One of the most well-known hotels is one of Dubai's most recognised hotels alongside the Burj Al Arab. At a distance, it really becomes an incredible photogenic view with lights from hotels flickering on and off as guests leave, and the top of each towers glowing throughout the night. If you're looking to get the ultimate view of Atlantis The Palm and really enjoy Dubai at night, we recommend heading over there for New Year's Eve. They have an incredible firework display that makes the hotel look even more elegant and impressive than before. Check out the hotel here.
Night Lights Tour by Helicopter
Now we can list each individual attraction that you can't miss on viewing at night, but once you've seen the Dubai fountain we really recommend viewing the Dubai lights from the sky. There is some brilliant night lights tour by helicopter where you'll be able to witness the exciting skyline that is transformed at night. You'll get to see Old Town Dubai at night, Dubai Creek, Burj Khalifa and many more. Whether this is a first-time trip to Dubai, or a regular trip, it is great way of seeing the skyline in a unique and different way. Find more information here.
If you thought that the fun should stop as the fun goes down in Dubai, you really need to explore these landmarks. Anyone who loves scenic and photograph opportunities would be in heaven with Dubai twinkling at night as all the lights from locals and tourist attractions get switched on. See Dubai in a completely different and unique way.