Going on holiday can be a curve-ball when you're trying to eat healthy or carry on with your diet. There are so many delicious treats abroad that can be hard to resist so we've got some tips on how you can eat healthy whilst on holiday.
Pack up
When you're about to fly remember to pack lots of healthy and organic snacks. It's easy enough to pick up a bag of crisps for the journey to the airport or a chocolate bar to keep you going throughout the day while on holiday. Sandwiches, wraps, salad, fruit or low-sugar cereal bars are a good recommendation for a flight. As soon as you arrive at your holiday destination, head to the local market and stock up on that fresh fruit because there's nothing more refreshing than tucking into a slice of watermelon on a desirable beach.
Breakfast
Breakfast is the most important meal of the day, so be more picky. The hash browns and sausages may seem tempting when eating breakfast in New York, but look in the other direction. We recommend that for holiday eating, try and opt for protein including  boiled or scrambled eggs as these will leave you feeling fuller for longer so you won't end up snacking throughout the day.
Eat fresh
If you're determined to eating healthy on holiday, then you must think fresh. When going to restaurants, try some of the fresh, healthy and local produce. Fishes (especially oily) are great and rich in omega-3 which will do wonders for your skin and will encourage healthy digestion. Think which dishes sound the freshest and tastiest and go for that.
When choosing what to eat while on holiday, we recommend avoiding any rich dishes, carbohydrates after 6pm and any excess oil if it's avoidable. If you can see excess oil on any dishes, just dip your napkin in and soak it up, just be careful not to leave the napkin in your food.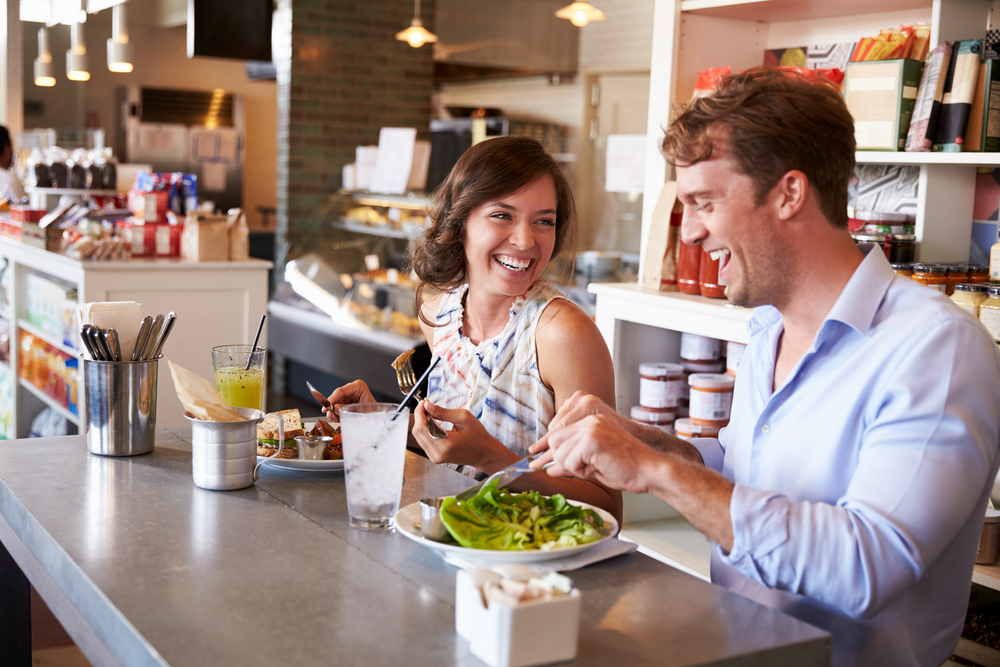 Treat yourself
When you're at home you probably treat yourself once a week, so why can't you do that on holiday? Plus, it is likely that you'll be walking around and sightseeing so you'll be staying active and burning calories. So go ahead and pick up those cakes and sweets in Dubai and enjoy a delicious treat.
Hold back on the alcohol
Some alcohols have a lot of calories and if you're eagerly counting your calories, you might want to miss alcohol. We all know that too much alcohol majority of the time leads to bad decisions. So that chocolate cake by the pool might seem like a good idea, but when you wake up with a hangover, your healthy holiday eating will be out the window.
Healthy eating tip: If a cocktail seems like a really good idea, a Martini is the best option as it has very few calories in whereas a pina colada contains more calories than a Big Mac.
Share a starter or pudding
Another tip for eating healthy while on holiday is to share either a starter or pudding. You want to realistically stick to 2 meals per sitting rather than 3 so you're not eating more than your ideal portions.
There are many healthy eating while on holiday tips, so your News Years resolution of being healthier can continue no matter where you are in the world. Click here for some more tips.  Just remember, that eating healthily doesn't mean you have to eat boring foods.