When in Las Vegas, pool parties are the thing to do. We have searched for some of the most luxurious and best pool parties in Vegas that we definitely think you should be at. Take a look at Holiday Genie's amazing holidays to Vegas to book your holiday and you could make the most of these fantastic pool parties.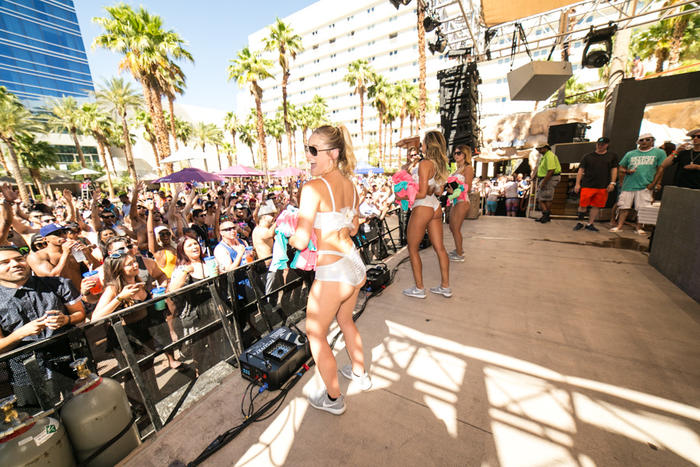 Rehab at The Hard Rock Hotel & Casino
Rehab  at The Hard Rock Hotel & Casino is one of the biggest and most famous pool parties in Vegas. This party can hold up to 7,000 guests which makes it the place to be on those hot sunny days. There are 3 pools, 50 poolside cabanas, delicious food and waiter's for VIP's which you can enjoy while listening and watching some of the world's most famous DJ's and performers. This day-club got the idea of pool parties in Las Vegas started, and they showed everyone exactly how to do it and have done since they first opened.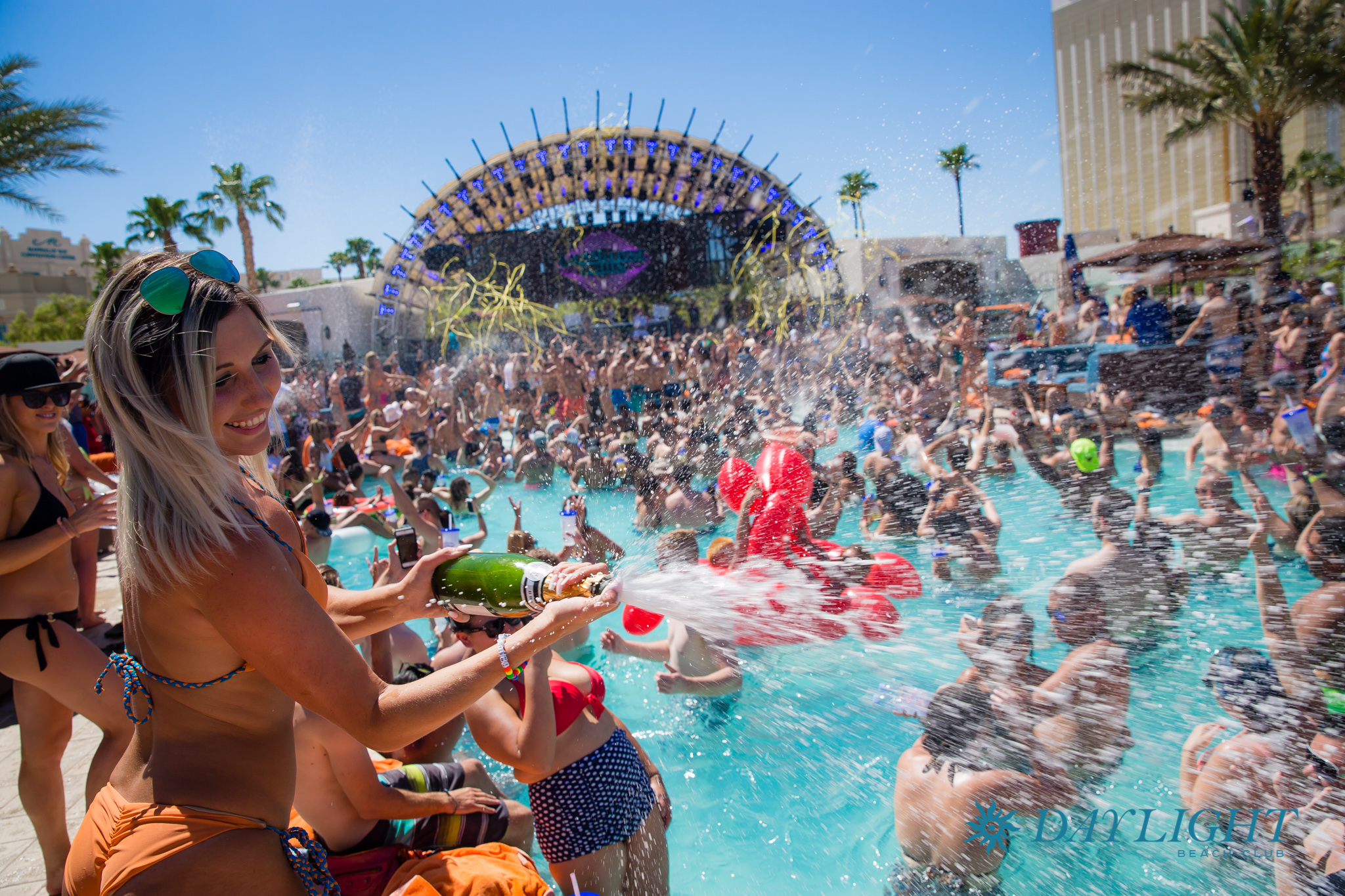 Daylight Pool Party
Daylight at Mandalay Bay is another popular pool party. The weekend dance party can cram roughly 5,000 party goers into one spot for some of the best DJs like Skrillex and Alesso with local acts on Sundays. The elevated stage makes it easy for everyone to view no matter where they are and is also surrounded by high-tech LED screen and more than 20 VIP cabanas. Just in case you didn't feel spoilt enough you can always upgrade and really live the life of a VIP. Las Vegas pool parties really put some nightclubs to shame.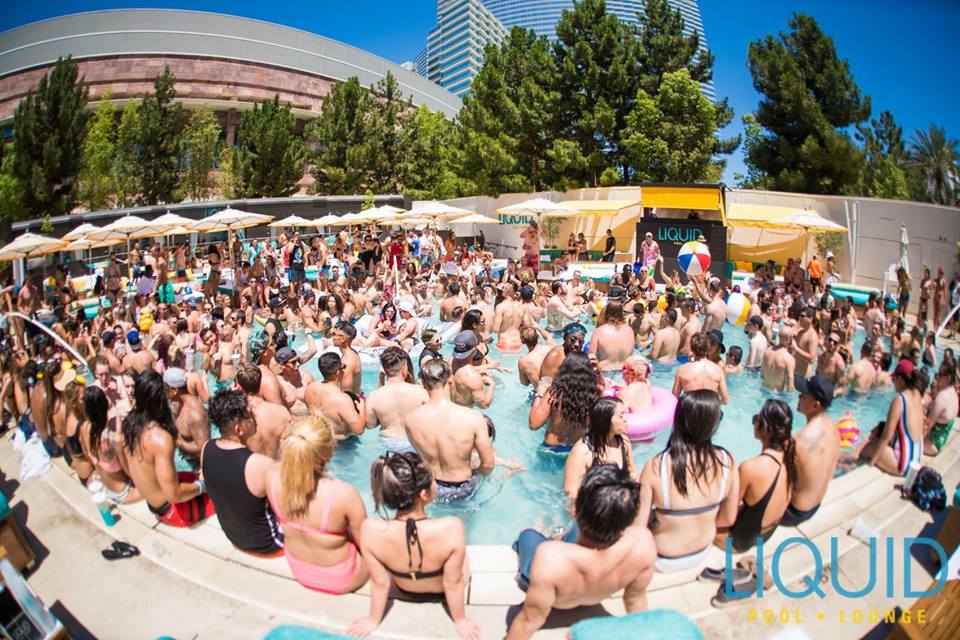 Liquid at Aria
This pool party will make you feel like you own the city. Aria is one of the newest 5* hotels along The Strip and have created a perfectly proportioned pool, big enough to party but small enough to make you feel like you own it. The pool is surrounded by cabanas, daybeds so you can lounge around. There is also a fantastic restaurant to ensure you don't get hungry in between partying. Keep your eyes peeled too, lots of celebrities tend to go to these best pool parties in Vegas.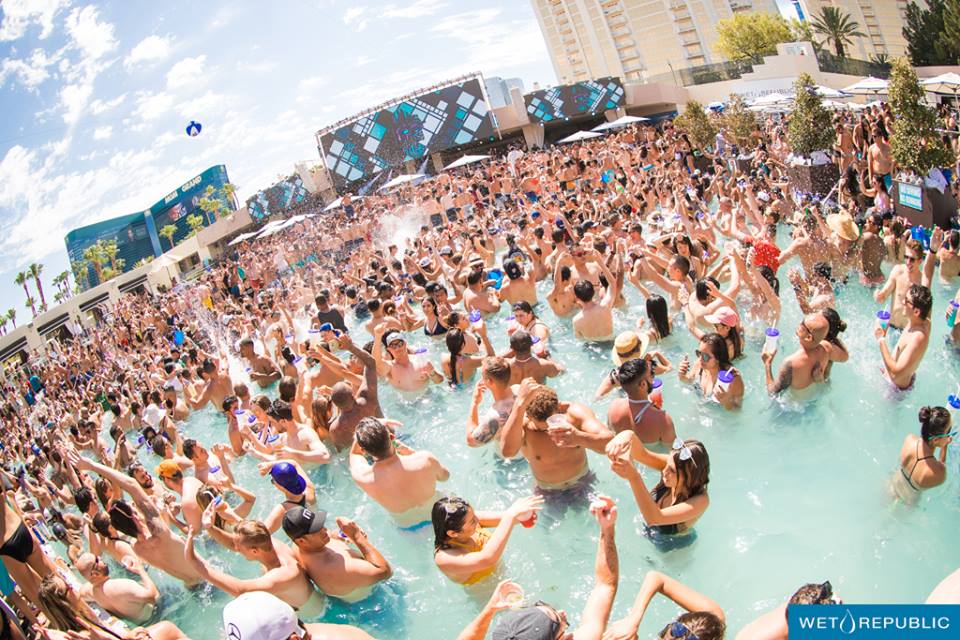 Wet Republic
Fans of fantastic music will love this pool party. Wet Republic is a wonderful pool complex which has recently introduced new bungalows offering the ultimate VIP experience. Celebrities love to party here so of course you'll want to see what the big deal is about. You can expect to see well-known DJs such as Calvin Harris, Steve Aoki and Tiesto playing making it a fantastic alternative to a nightclub. You can enjoy the sunshine, the music and the atmosphere all in one place.
Drai's Beach Club
Another popular Vegas pool party is Drai's Beach Club at The Cromwell. The hotel may be an intimate boutique hotel, but don't be fooled as its rooftop offers a completely different atmosphere. It becomes a monster nightclub and the party continues all day long. Being 11 stories above the Strip, you'll be partying with the beautiful city beneath you.
Marquee Day Club
The Cosmopolitan hotel despite being relatively new is quickly becoming a favourite for their Marquee Day Club. There are three-storey pool bungalows which include everything you can need, infinity pools and of course the best DJ's play here. It is something fun and not too bizarre.
Moorea Beach Club
However, if partying hard to loud music in a pool doesn't appeal to you then of course Las Vegas has a poolside for you. Moorea Beach Club is one of the most comfortable poolside lounges in Vegas with 12ft day beds. The VIP treatment is a lot more luxurious with Moorea Villas on the third level with a private pool and beautiful views of the Mandalay Beach Complex.
After visiting one of the Vegas pool parties, you'll be falling in love with the city and the nightlife. Fancy a pool party?
Save