So you are thinking of getting married in Las Vegas – congratulations! You are so excited however when you mentioned 'Vegas' to friends and family their reactions weren't great and doubts have started to creep in. The words "legal", "Elvis", "tacky" and "rushed" have been bantered about and you are left feeling confused, well let me put your mind at rest and reveal some of truths about Las Vegas Weddings!
Are weddings in Las Vegas legal?
To start with, most people are concerned if the weddings in Las Vegas are legally binding? Yes, they are both legal and binding. So once you say "I do" there is no going back!
Do you need to be a USA citizen?
Another frequently asked question is "do you need to be a USA citizen to marry in Las Vegas?" No, you don't need to be a USA citizen. You do have to apply & pay for a marriage license whilst you are there – then you are allowed to get married in any of the wedding chapels straight away.
Do you need to stay in Vegas for at least a week?
There is a myth that you have to stay in Vegas for at least a week and take a blood test before applying for your license. This is complete nonsense – you can land in Vegas and head straight to the Clark County Marriage Licence Bureau (more information here) if you so wish, you do however have to be sober when applying!
Las Vegas Weddings don't last?
It is often said that Las Vegas weddings don't last! Well I know a lot of people who married in Vegas and are still married years later. Vegas marriages are just as likely to last as any other.
It is a well-known and popular choice for couples to have an Elvis impersonator marrying them but no, not everyone is married by Elvis in Vegas. It is entirely up to you, Elvis or no Elvis "uh huh"!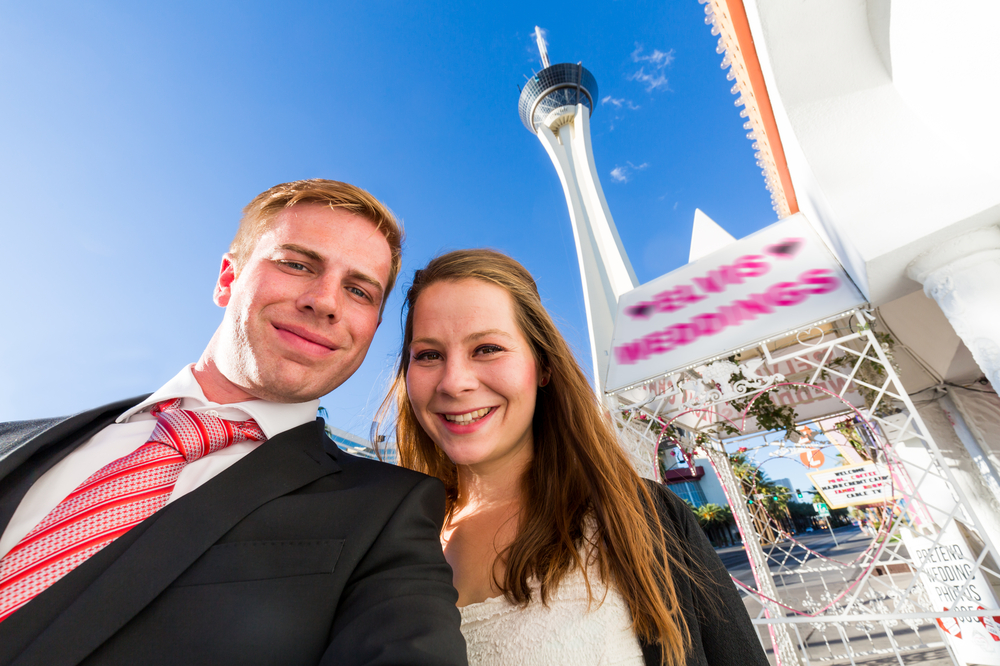 Can I have a traditional white wedding?
Another myth is that Las Vegas doesn't cater for the big white traditional weddings. Oh yes they do, and the chapels are well rehearsed and have been doing it for years. Whatever your requirements roses, confetti, wedding cake, special music, all of this can be arranged.
Are Vegas ceremonies non religious?
It is often said that you can't have a religious ceremony in Vegas. Again yes you can but you must discuss this with your wedding chapel/wedding co-ordinator in advance. There are so many wedding options from small traditional ceremonies in a Chapel to a wild extravaganza on the strip, the choice is yours.
Are weddings in Vegas tacky?
Probably the most frequent myth is that all weddings in Las Vegas are tacky. Well this doesn't have to be the case your Vegas wedding can be as tacky and cheesy or as sophisticated and classy and you wish it to be.
So don't rule out Vegas for your wedding, it has hosted some of the most beautiful weddings in the world. It truly is an amazing and versatile place where you can create a bespoke wedding which you will be proud of.
I would recommend booking a package holiday to Las Vegas prior to your wedding so you have time to choose your perfect wedding venue and theme (or no theme)!