Christmas is a magical time no matter where you are in the world, but what if we told you Christmas at Disney World would you blow your mind away? Year after year, Disney World hosts Christmas events that will make your family's dreams come true! It will be the Ultimate Disney World Holiday and here are our pick of some of the best holiday events available.
Mickey's Very Merry Christmas Party
It's no secret that Magic Kingdom is actually really magical. They go all out for Christmas with decorations and lights enough to make your jaw-drop in amazement. Also to be found at Magic Kingdom is Mickey's Very Merry Christmas Party; this will entertain guests of every age and with lots of things included in this package, we are sure it is the ultimate Christmas experience! This is an after-hours party and is an excellent addition to make your holiday extra special.
Holiday Wishes Christmas Fireworks
Of course you cannot miss the Holiday Wishes Christmas fireworks at Walt Disney World. If you think Disney's fireworks are fantastic during the rest of the year, prepare yourselves to be left speechless with amazing incorporated fireworks so they fit with accompanying song lyrics. With the fireworks also comes the nightly light show on Cinderella's Castle called Celebrate the Magic! In past years, the castle has been wrapped up in colourful bows, gift paper, ornaments and of course the Castle Cake for their 25th Anniversary. Both these shows are brilliantly colourful and you won't want to look away for 2 seconds.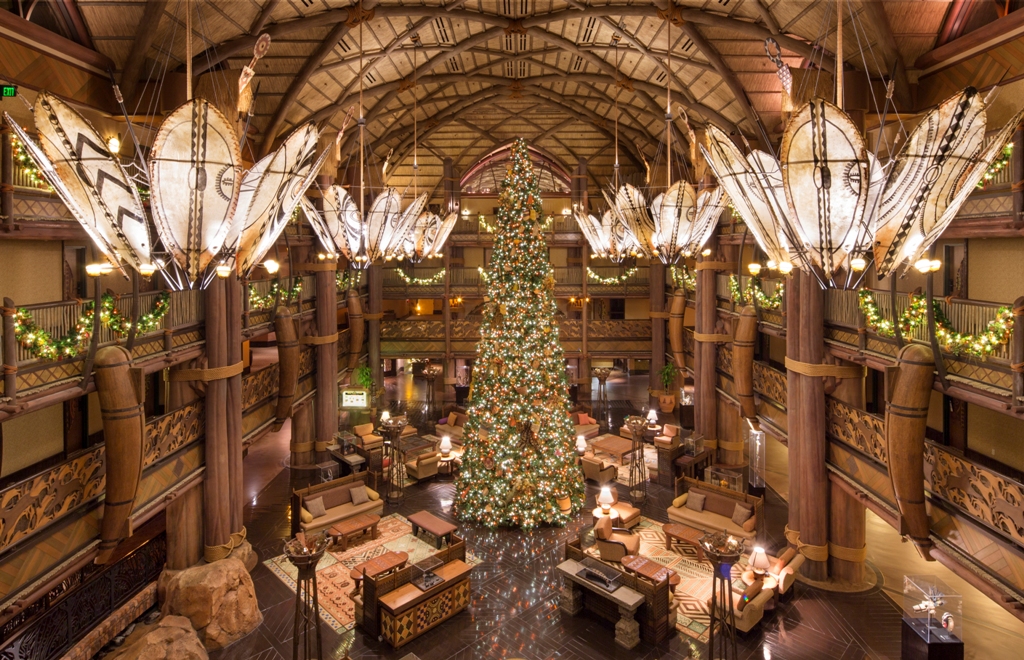 The Hotels Get Makeovers
Even the Disney Resort Hotels decorate the rooms and lobbies! The extra special thing is that you can surprise your children with gifts, treats, decoration and personal greetings delivered to your room by their favourite Disney characters! Now that's what we call great room service.
The Osbourne Family Spectacle of Dancing Lights
If you find yourself at Disney's Hollywood Studios then check out the The Osbourne Family Spectacle of Dancing Lights. These Christmas Lights at Disney World are unfortunately never going to be shown after the end of January 2016 so make sure you check it out! Over cityscape buildings are millions of dazzling bulbs, dancing lights and animated displays synchronised to holiday music that will get everyone in the holiday spirit.
Special Christmas Attractions
Disney World also releases some special Christmas attractions. We can't forget to mention For the First Time in Forever: A Frozen Sing-Along Celebration.  Take your seat and get ready for a fun and frosty experience with your favourite Frozen friends. Make sure you have your singing voices ready and prepare yourselves laugh and sing during the enchanting retelling of the kingdom's story that is funny and heart-warming.
Disney is magical all year round and at Christmas it only gets better. Spending Christmas Day at Disney World will give the whole family an unforgettable experience and will certainly make you the best parents ever. With many events and celebrations happening throughout December, we are sure that you'll have the best Christmas ever with Mickey and his friends.