Get your swimsuits on, top up your sun-cream and crank up the volume because the Miami pool parties are beginning to start with Summer just around the corner. For those party lovers, you could be spending your day with drinks, sun and great music all with other people looking to have a great time; if that sounds like a great idea a holiday to Miami is what you need! There are so many fantastic options that you'll want to go to all of them, Holiday Genie have come up with the best Miami pool parties that you really do not want to miss out on!
Highbar at Dream Hotel South Beach
Every tourist and local has a soft spot for South Beach and the pool party at Dream Hotel attracts so many. The infinity pool is surrounded by modern white furniture with golden accents making it a visually beautiful area to be in. There are mini-podiums you can access which are 70-feet above the ocean; you can only imagine what the bird's eye view is like of South Beach – breathtaking! Unlike many other pool parties, Highbar at Dream Hotel is open to the public; you'll be treated like a royal without having to pay huge amounts, and the best thing, the party rarely stops!
The W South Beach Hotel
The W South Beach Hotel offers an unforgettable Miami pool party with some very unique elements to it! You can party in the day by the outdoor heated swimming pool with staff offering non-stop food and drink service to make sure you never go hungry or thirsty while partying.
What's our favourite element? A personal sun-cream helper who will make sure you never get burnt and can help you reach those difficult places, incredible right? You can feel even more like VIP inside one of the private cabanas that has everything you might need to party all day; and once the sun goes down, the party moves inside – there's just no end to this pool party in Miami.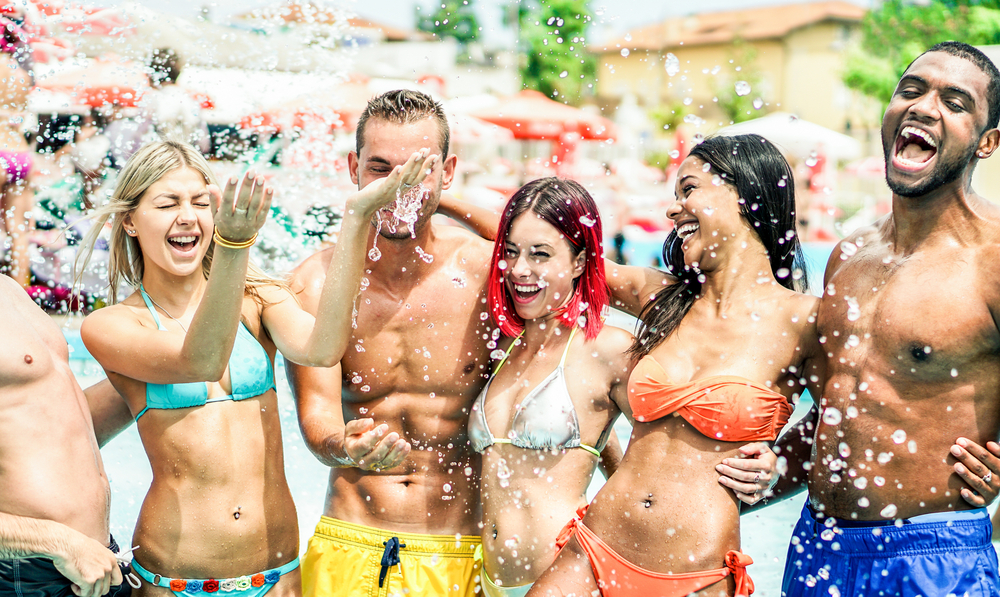 1 Hotel South Beach Rooftop
The best pool party in Miami with a view definitely has to go to 1 Hotel South Beach Rooftop. A pool, a bar and a DJ here all helps make the fantastic view much better as you're sipping on drinks from the clouds. It is a great relaxing atmosphere that offers a fantastic view of the beach that cannot be matched by any other pool party in Miami.
Hyde Beach at the SLS Hotel
Looking for a jam-packed, busy and lively pool party in Miami? Head to Hyde Beach at the SLS Hotel where you'll be partying with many other people and even a giant rubber duck – perhaps not something you'd expect at a boutique hotel. It was designed to make the pool look like a bath tub, which is why they have included the rubber duck. You might not be able to take a bubble bath here, but you'll definitely be able to party for hours without getting bored.
There are so many fantastic Miami pool parties for you to enjoy and with many offering fantastic views of Miami, you will definitely have an unforgettable experience. With so many things to do in and see in the beautiful city in Florida, you definitely will have an incredible holiday! Click here for a complete list of all the Miami Pool Party Events and where to go. Where to first?