There has never been a better excuse to plan your next visit to Miami than this brand new attractions coming to Miami on the 8th May! The Frost Science Museum will be one of the hottest new attractions coming to downtown Miami perfectly located looking over Biscayne Bay. Holiday Genie has got all the gossip and news for this upcoming attraction.
What is it?
Let's not mess around, so what is exactly the new Frost Science Museum in Miami? Well, it's a museum in Miami. Spread across 4 acres of land will be the 4 state-of-the-art buildings that will feature an incredible planetarium and aquarium. But this museum takes things to the next level, with interactive exhibits on anything and everything science!
What can I learn?
So the Phillip and Patricia Frost Museum of Science offer an excellent space for you to learn about the ecosystem of the Everglades, evolution of flight, human biology and much more. What is perhaps the shining element of this museum is the Aquarium and Planetarium which we will discuss this further on.
It's an excellent place to spark interest and wonder in every one that visits, especially with the kids! It is set to be one of the top things for visitors to do in Miami because of the fun and interactive environment, making science fun.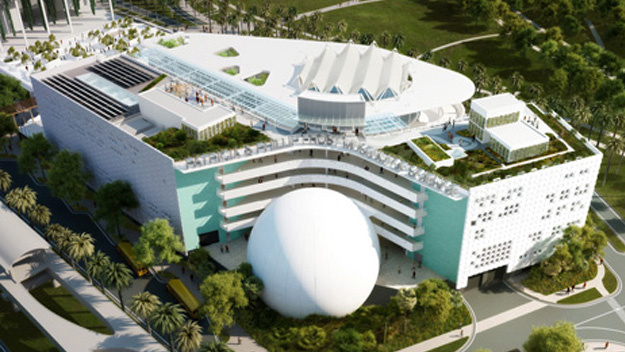 What is so special about this museum?
There only a few museums that offer an aquarium and planetarium in one location, which is why many have anticipated the opening of this science museum in Miami. Guests will have such ease to learning what's going on in space and under the sea in a fun and interactive way. This attraction will perfectly mark Miami's first aquarium that is dedicated to both science and education.
The Aquarium
Let's start with one of the main features of the Frost Science Museum, the Aquarium. The stunning three-level aquarium will contain multiple habitats, ecosystem and sub aquatic depths – know what that means? Take a trip to this museum and you can learn for yourself.
There is an open-air rooftop level where you'll find many different species of fish gliding through water like hammerhead sharks and mahi-mahi. There are additional exhibits to showcase coral reefs, sandy beaches and the famous Everglades (and much more). You can even pet a stingray!
But it doesn't stop there; on the Dive level you can view nearly 30 aquariums and interactive areas where you will expand your knowledge of South Florida's subtropical marine life.
The Deep level offers opportunities to learn about the vast depths of the Gulf Stream and the impact of climate and ecosystems around the world. The Gulf Stream Aquarium will enable you to watch the fascinating fish of the ocean's deepest places swimming above you.
The Planetarium
And breathe, that's a lot to take in right? But this museum in Miami doesn't stop there. Next up is the planetarium; the co-star of the aquarium. It's been described as one of the most cutting-edge in the world. You'll get to tumble through space, explore the oceans depth, go stargazing, dissect a human cell and be completely immersed into an exciting educational experience. The virtual experience will be sure to have everyone gazing in amazement.
Featured exhibits
But as well as these golden attributes of the Frost Science Museum in Miami, there are also temporary exhibits across the North and West Wing. There's a café, an immersive laser show, virtual Apollo space mission launch, and exhibits dedicated to health and fitness.
The Phillip and Patricia Frost Museum of Science is truly remarkable and the grand opening on the 8th May will go down in history for Miami. This attraction is enough for you to quickly see that Miami isn't just beaches and glorious sun.
Save