Barbados is a dream destination for many and it is not hard to see why from the white sand beaches and crystal clear waters. From fabulous resorts to water-sport excursion, the island screams relaxation. But what if you're looking for a lively holiday to Barbados? The nightlife in Barbados is incredible and with so much variety it can be hard deciding on the best places to go. We've come up with some fantastic places to go and why you should consider exploring the Barbados nightlife at least once on your holiday.
Oistins Fish Fry
Every Friday evening, the fishing village of Oistins hosts a big street party which is extremely popular with tourists and the locals. You can expect to find excellent local dishes here that will be an explosion of flavour in your mouth. With delicious food and plenty of drinking, it'll be a fantastic street party for all ages to enjoy and dance on the beautiful Caribbean island. The Barbados nightlife has a fantastic atmosphere that you need to experience.
Harbour Lights
Harbour Lights is a fantastic open air, beachfront Barbados night club that boasts an excellent location for you to enjoy your evening. With local and international music being played by DJ's you'll be able to enjoy the beautiful Barbados beach while dancing. It is a fantastic night out with plenty of entertainment, all inclusive of food and drinks and opportunities for you to get on your feet and dance. From fire eaters to stilt walkers, you'll have hours of fun at this fantastic Barbados club.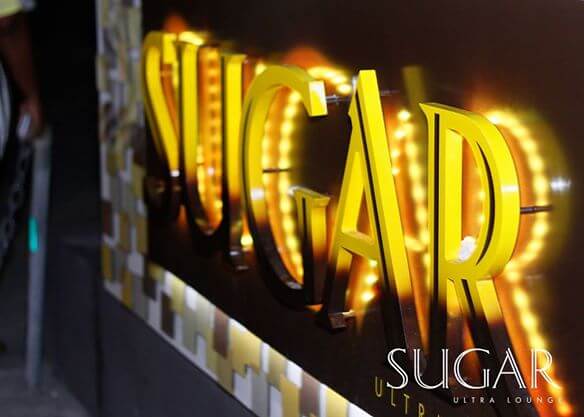 Sugar Ultra Lounge
For the adults a fantastic Barbados club is the Sugar Ultra Lounge. You can find this fantastic club in the heart of St. Lawrence Gap which is well known for being the "entertainment strip" in Barbados. It is the biggest nightclub in Barbados and its well-known for being the perfect mix of Caribbean open-air experience, modern decor, top tier sound system and is joined with some of the hottest DJ's in the world. It is the largest and you will never experience anything like this club! Click here for more information.
Mullins Beach Bar and Grill
Mullins Beach Bar is a fantastic place to go to spend an evening enjoying the beautiful Barbados sunset while sipping on delicious cocktails. It is considered one of the best beach bars on the west coast of Barbados for having delicious food, fantastic music and delicious drinks. If you're looking for a quiet evening relaxing next to one of the most beautiful beaches in Barbados, this is the place to go.
Scarlet
Scarlet is a beautiful modern bistro that has some delicious twists on the Caribbean classic dishes. Pop art fills the walls and there is a long list of tasty cocktails – mojitos are a speciality. It's a great place to go and grab a bite to eat and enjoy some delicious cocktails by the sea. Find Scarlet here.
With so many different options of Barbados nightlife, you'll be able to end a lovely relaxing day on the beach by being entertained and enjoying the unique clubs and bars that Barbados has to offer. If you didn't have enough reasons as to why you definitely book your next holiday here, the nightlife is one more. So what are you waiting for?