It's no secret that St Lucia is an island of wonder, from discovering the famous flawless beaches, or even delving a little deeper and seeing what hidden treasures can be found at the heart of the island. But if you're looking for a hub of entertainment, Rodney Bay Village is where it is at. From bars, restaurants, activities and even famous sights, this village has everything you could possibly need for an exciting day or evening out – you definitely do not want to miss out on this and it'll definitely make you want to visit the beautiful St Lucia even more!
Rodney Bay is surrounded by beachfront hotels and resorts as well many delicious restaurants and lively bars. It is well-known for being the island's tourism and entertainment capital which draws tourists and locals in making it a brilliant area to be.
During the day, Rodney Bay in St Lucia acts a busy commercial hub with many business men and women rushing around and taking advantage of the brilliant facilities in the surrounded areas. As the sun goes down, the excitement and beauty of the island really livens up making it extremely exciting to be a part of. It makes a fantastic atmosphere to be in and is great for the tourists looking to spend their day enjoying one of the many fantastic things to do there.
St Lucia is famous for having a large amount of organic, local and fresh foods being produced on the island meaning the restaurants will serve the freshest ingredients. Rodney Bay Village boasts many different restaurants serving all sorts of cuisines from all around the world.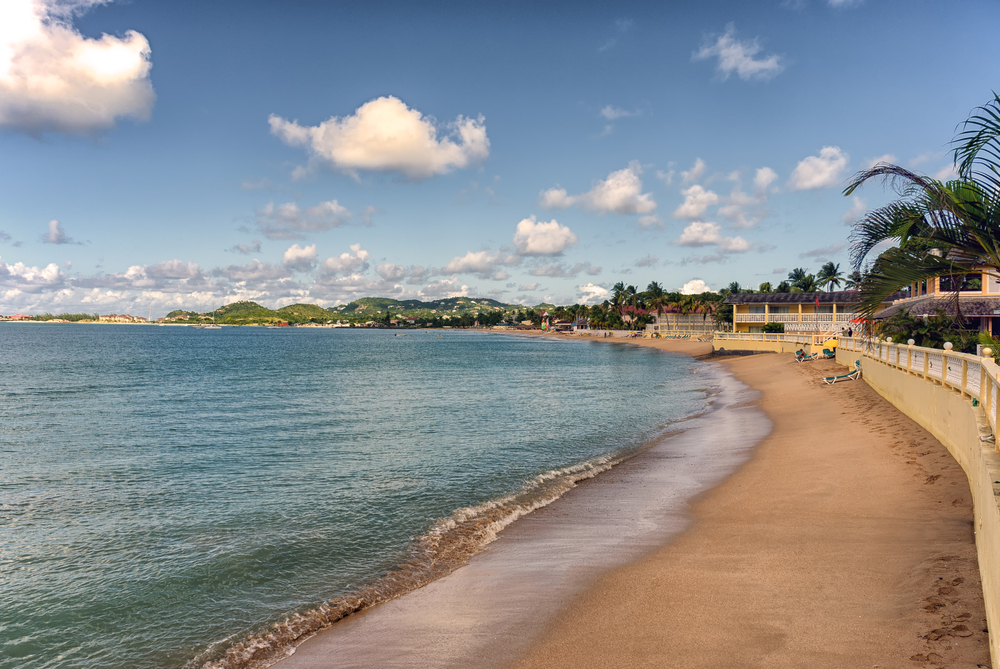 A Holiday Genie restaurant favourite is Jacques Waterfront Dining (aka Froggie Jacques). It is one of St Lucia's busiest restaurants and it's really not hard to see why. Located on the water's edge at the entrance of Rodney Bay Marina in St Lucia, you can expect to find a menu filled with amazing foods with many different fusions and specialities. It's delicious Caribbean cuisine with a twist so you can expect to find elements of French and Caribbean flavours all in one dish. It also boasts a beautiful location that offers an intimate waterside setting; you'll fall in love with this fantastic restaurant.
Looking for a fantastic family activity to do while cooling off? Splash Island Water Park can be found on the popular Reduit Beach in Rodney Bay Village and is the Caribbean's first open-water sports. It is a water park filled with plenty of obstacle-course features for you to get that adrenaline pumping. A day out here is an absolute must if you find yourself in the area.
When on holiday you can't go wrong with a bit of shopping so head to the modern Bay Walk Shopping Mall in Rodney Bay Village that is St Lucia's newest and most exciting development. Explore over 70 stores and shop until you drop with plenty of variety in restaurants, retail shops and bars. It's only a short walk away from the most popular beach so really is fantastically located.
Looking for more things to do in Rodney Bay? There are also many fantastic tours and trips available that will help you see more of the area and island for less. Click here for some tours and trips available.
Worry less about what you can do and get your trip planned to Rodney Bay Marina in St Lucia and you will not be disappointed. With plenty of things to do and see here, there is plenty of variety of activities to choose from with something for everyone. Sounds amazing, right?