If you like to shop on holiday then you will simply love Dubai, here you will find some of the best shopping experiences in the world. Dubai is home to extravagant shopping malls which along with the latest designer brands and boutiques also include wonderful attractions and places to socialise.
As a complete contrast to the modern shopping malls in Dubai, but still as enjoyable, you can explore the traditional markets known as souks. Here you get to experience the Dubai of yesterday and find some lovely authentic gifts to take home.
Plus there are lots of other wonderful things to do in Dubai – to start you off, read our list of the best things to do in Dubai!
Let's start by looking at the must-see shopping malls in Dubai, they offer so much more than just your regular shopping experience, you'll be surprised at what you will discover!
The Dubai Mall
With around 1,200 shops the Dubai Mall (more here) is one of the biggest malls in the world. According to Gulfnews the Dubai Mall welcomed a staggering 75 million visitors in 2013, making it the world's most visited shopping and leisure attraction that year. As well as its world renowned collection of fashion brands such as Oscar de la Renta, Michael Kors and Chloe you can find some amazing attractions:
The Dubai Aquarium and Underwater Zoo has one of the largest tanks in the world together with one of the biggest viewing panels, here you can see a wonderful mix of creatures/animals from Piranha, Catfish and Sharks to Otters and Penguins. Also within the Dubai Mall you will find the award-winning KidZania which is an interactive 'edutainment' centre for children.   The concept here is that children can choose to be different grown-up roles (there are 80 to choose from) this includes firefighters, chefs, surgeons to help kids understand the grown-up world better. Then head to DubaiDino to meet the resident dinosaur or if you would like to ice skate in an Olympic-size ice rink that too is possible.
Outside of the mall you will find the impressive and world's largest dancing fountain. The Dubai Fountain show has daily performances taking place on the Burj Khalifa Lake. With fountain spray heights of approx. 500 feet and 1.5 million lumens of projected light it is a spectacular sight.
For another incredible experience take a trip up to 124th floor of the world's tallest tower, referred to as 'At the Top, Burj Khalifa' here you will arrive by one of the world's fastest lifts and experience 360 degree views of Dubai and beyond….. Who would have thought all of this is possible on a shopping trip?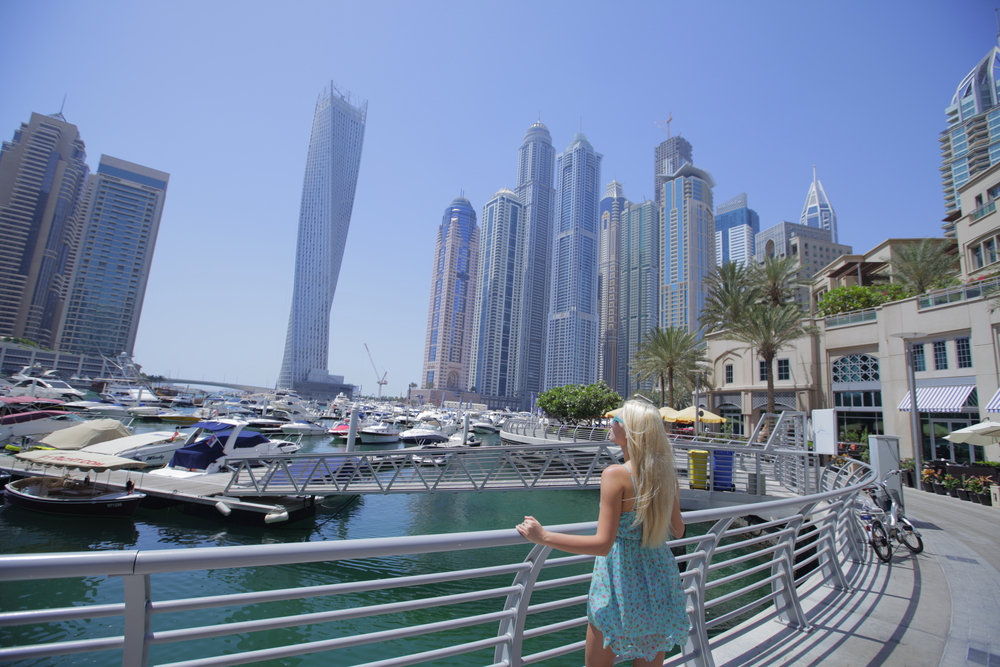 Mall of the Emirates
Here you can find hundreds of international brands such as DKNY, Juicy Couture and Karen Millen in more than 560 outlets but as with the Dubai Mall it has so much more to offer than just shopping. Who would have thought that you can go from 40 degree heat outside to snow within a matter of minutes? Well you can in the Mall of the Emirates where you will find Ski Dubai which is an indoor ski resort where you can take to the slopes. The mall is currently working on project 'Evolution 2015' which will launch new stores, eateries and also the UAE's largest cinema.
Dubai Duty Free (DDF)
Located in Dubai airport is Dubai Duty Free where you will find some great tax free bargains. Look out for savings on alcohol, gold, electronics and sunglasses. The most popular product sold in DDF was perfume so why not treat yourself to your favourite fragrance before jetting off! Check out their website.
Dubai Souks
In the Deira area of Dubai you can find some of Dubai's well known souks. Although less of a labyrinth than years ago these historic souks sell a variety of gold, fish, meat, vegetables and spices and still trade some wonderful goods and allow you to enter into some good-natured bartering.
Why not book a 3 night package to Dubai and discover a totally unique shopping experience!