Dubai is known world-wide for a lot of things, like the tallest man made structure, the largest mall in the world and the world's only 7-star hotel. All of these prove Dubai is a very luxurious place to visit, and on top of this, turns out beaches in Dubai are pretty jaw-dropping! Majority of beaches do have rules, so keep reading to find out about the best beaches in Dubai and some tips for visiting them on your Dubai beach holiday.
Mamzar Beach Park
Mamzar Beach is big and extremely beautiful; it has been awarded blue flag beach status making Mamzar Beach Park among the most desirable beaches to visit. You can find 5 beaches in coves and around the coast, just in case 1 Dubai beach wasn't enough for you. On each beach you can find sheltered areas with changing rooms, showers and the option to rent barbecue areas. If the sea isn't where you want to be, there are also 2 large swimming pools where you can go. Find out more about this beach here.
Burj Beach
A famous beach in Dubai you might have heard of is Burj Beach. It is a very wide and long stretch of beach which leads to the famous Burj Al Arab making it a very popular beach. As well as the volley ball nets, playing football is also very popular along this beach. Be sure to take your camera because with fantastic views of the Burj Al Arab in the back drop, you can get some incredible photos that will sure make everyone back at home jealous.
Sunset Beach
Located right next to Burj Beach is Sunset Beach in Dubai. You can take in this beautiful beach with fantastic views of Burj Al Arab. It is Dubai's last surfing beach and we recommend heading here for a stroll in the evening while watching the sun set. Find out more about the beach here.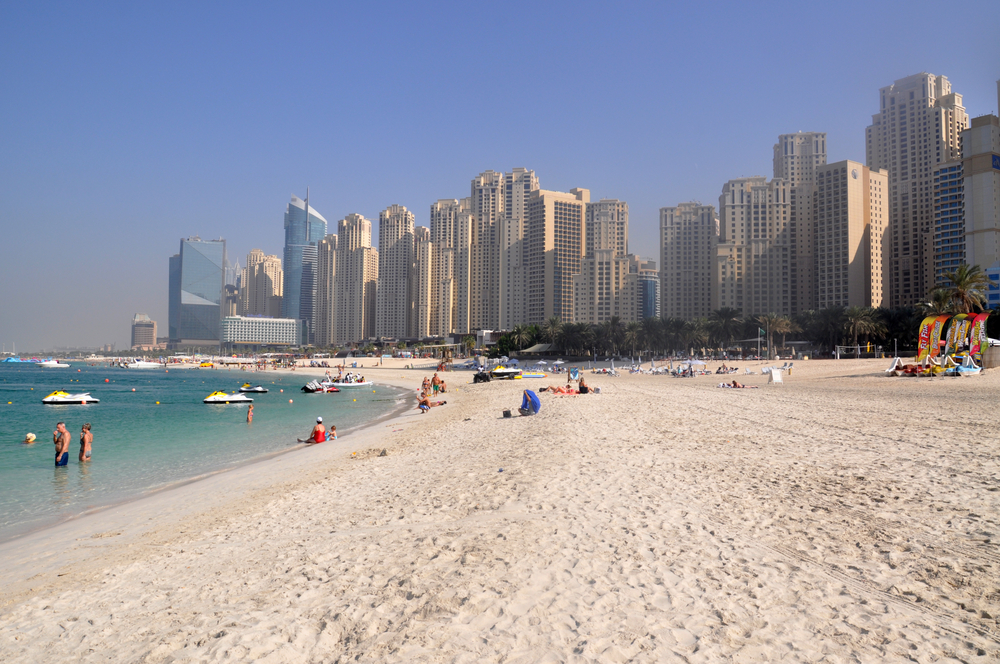 JBR Beach
JBR Beach is one of the best beaches in Dubai for tourists and very popular for the readily available and clean facilities it has to offer, including showers and green patches to play sports on. With restaurants open nearby with fantastic sea views, it is a fantastic beach to visit for a few hours. You can also expect to see events happening often including sporting and motoring events so be sure to head down and see what you can find.
Tips for Dubai beaches
There are some pretty amazing beaches to be found in Dubai however there are certain things you should wear on and around the beach.
When near the beach, the hot weather can leave you wanting to walk around in your swimwear; to respect the local Muslim culture and avoid unwanted attention; we recommend putting clothes on top of your swim wear when eating meals or drinking away from the beach or pool. Women if you're wearing a dress or shirt – you should bring a shawl or scarf to cover up your shoulders.
On public beaches, the majority of visitors will be dressed modestly even when swimming. Wearing normal swim suits may draw attention so be sure to cover yourself up when swimming at public beaches – shorts and t-shirt is appropriate.
Read our post on further tips for visitors to Dubai here.
Save
Save
Save