For many of us the opportunity to swim with dolphins is just a dream, a lifelong ambition and something that's added to one's bucket list, you would love for it to happen – but where, when and how needs to be answered first of all! Well, it's never a better time to answer those questions and make your dreams become reality!
Swim with dolphins in Orlando
Orlando is not only a fantastic holiday destination but one which provides you with the opportunity to swim with dolphins. You will be able to swim majestically alongside these wonderful creatures and feel completely free. Swimming with dolphins in Orlando is an unforgettable experience.
Where to swim with dolphins
You could visit a specialist theme park like Discovery Cove in Orlando. Here you can have one of the best snorkelling experiences in Florida! At this park you can book one of their Signature Experiences where you are allocated a 30 minute dolphin encounter. They will also inform you about how dolphins communicate and their behaviour. In a small group you'll head into the water to be familiarised with the dolphins, then you'll head into deeper water where you'll be given the opportunity to have a thrilling dorsal fin ride back to the shore! At Discovery Cove, you can also snorkel through their tropical Grand Reef and see the colourful variety of fish and rays, then when out of the water you can find plenty of areas to relax on their sandy beach. Entrance to SeaWorld and Aquatica tends to be included with the price of the ticket but it is advised that you book your tickets in advance as there are limited places per day.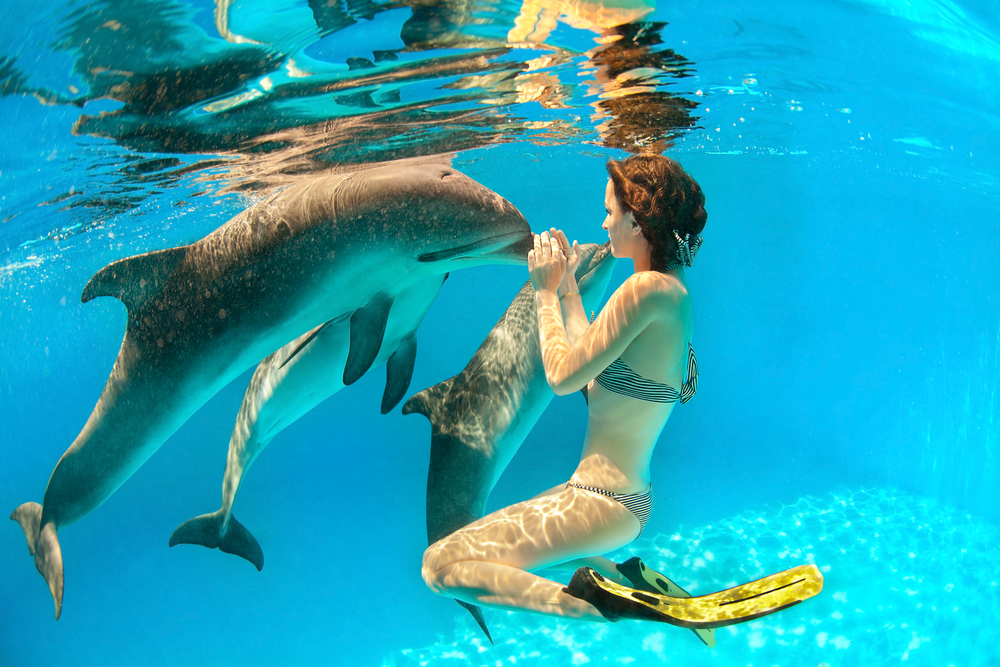 Alternatively, visit Key Largo which is located approx. 1.5 hrs away from Miami International airport.   Here you can experience a truly amazing dolphin encounter with a company called Dolphin Plus. They will start by giving you an informative session about these amazing mammals and prepare you for what to expect during the swim.
If you'd love to see these majestic creatures but would prefer not to be in the water with them this is also possible in Orlando.   Head off on a cruise to the beautiful sea of the Gulf of Mexico for guaranteed dolphin sightings, a very enjoyable experience seeing the dolphins whilst they are in their natural environment.
So for a truly fantastic and unforgettable Orlando holiday experience book a dolphin encounter in Orlando, Florida!