It's probably already made clear over on Holiday Genie's Facebook page that we love everything and anything to do with the Caribbean. What we love even more is advising people the amount you can do other than relaxing on a beach and enjoying the glorious sunshine. Take your Antigua trip to the next level and go swimming with stingrays. Yep, stingrays. Forget swimming with dolphins and sharks, because this is the next adventurous and exotic activity you can enjoy. First, check facts about stingrays and grab your swimming costume; we've got all the information you need for this fun and exciting excursion in Antigua.
What's the big deal about swimming with stingrays in Antigua?
Swimming with any marine animal is a magical experience and swimming with stingrays is an opportunity you don't get all over the world. What is great about the experience is that it is one of the best things to do in Antigua for all the family. Trying to find more things to do with kids can be hard, but young kids are also welcome to meet the gracious animals so everyone can get involved and create some magical memories.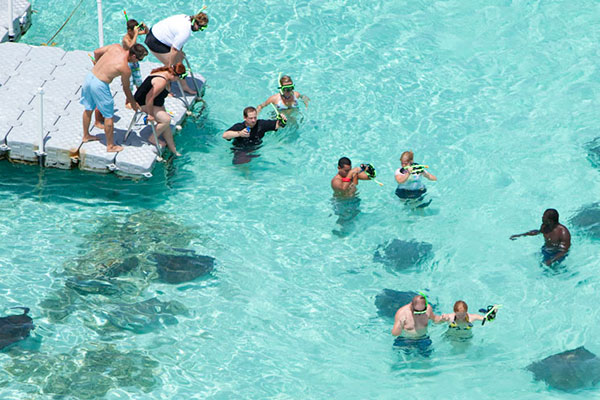 Where can you swim with stingrays?
The most popular and also described as one of the best places to go swimming with stingrays is Stingray City Antigua. If you're not staying in Seaton Village, you will need to get a taxi here as this is the meeting point before they take you out. It only takes a 5 minute boat trip from the mainland to the area where you get to go swimming.
What does the experience involve?
Once you meet for your little adventure you will be whizzed away on a very short speedboat adventure which will take you to a shallow pool which is surrounded by stunning coral reef. You then get in and have the choice of standing or swimming with the stingrays. During this time you can feed them, go snorkelling and also take some selfies with the beautiful creatures before returning back to land.
When you're feeding the stingrays, you will quickly realise they love to be fed and you may be surrounded which sounds terrifying but is a truly exhilarating experience. You'll want to become one with the incredible animals.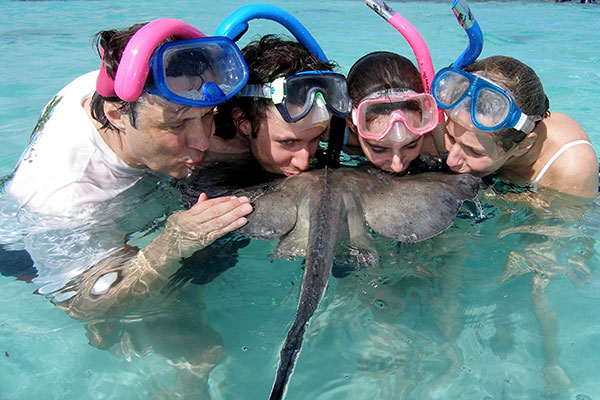 What do I need?
You don't need to take a lot with you as snorkelling gear and shoes are given to you on the boat. We recommend taking 4 items with: sunscreen, swimwear, dry clothes and an underwater camera (isn't vital but you will want to take some pictures).
Visiting stingray city in Antigua is a truly remarkable experience and one that doesn't come often. When you're on holiday, you should absolutely try this experience… you'll be gutted if you don't. The exciting experience will definitely given you the ultimate Caribbean vibes and it's an unforgettable memory for the whole family. There are even more things to do with kids on the island too, so this could be just one of many exciting extras.
Save
Save
Save
Save
Save