This particular city of UAE is incredibly underrated and whilst many people are still asking themselves why visit Ras Al Khaimah; you could be discovering the beauty before it becomes one of the hottest tourist spots. With so much to do and see the daytimes will be full of exploration, but there is wonderful adventure of finding where to eat in Ras Al Khaimah. There are some delicious and exotic restaurants to try and we've got some top recommendations for your holiday in Ras Al Khaimah.
Azure
Azure is one of the best restaurants in Ras Al Khaimah thanks to its delicious and extensive range on its menu and the beautiful modern interior. You can find this restaurant at the Hotel Waldorf Astoria and really is a treat for anyone dining here. There are fantastic opportunities to dine for lunch and dinner and offers a casual atmosphere for anyone choosing to eat here. They serve Mediterranean, European and Italian food so there is plenty to choose from so the fussy eaters can also eat their heart out.
Meat Point
Meat Point is an excellent restaurant in Ras Al Khaimah serving tasty European food. It opens in the evening and is an excellent place to enjoy some fine-dining for your evening meal after a busy day exploring. The food looks as delicious as it tastes here and the service from the staff is excellent. It really is an exceptional choice for an impressive evening out to dine on food cooked to perfection. Check it out here.
Pure Veg Restaurant
This no-meat Ras Al Khaimah restaurant is an excellent option if you're looking to enjoy delicious Indian cuisine. This restaurant serves absolutely no-meat so if you're looking for a good steak this is not the place to eat for you. The extensive menu features a wide range of dishes including dosas, tandooris and creamy curries.
Passage to Asia
One of the top restaurants in Ras Al Khaimah for Asian cuisine is Passage to Asia found at Hilton Ras Al Khaimah Resort & Spa. An array of spices and delicious cuisine can be found at this excellent restaurant. Find Thai and Japanese delicacies that will be sure to get your taste-buds tingling. You can enjoy so many dishes including some of the freshest sushi at the Sushi counter. There is also live entertainment and a great opportunity to dine with a view of Arabian Gulf which will definitely be an unforgettable dining experience.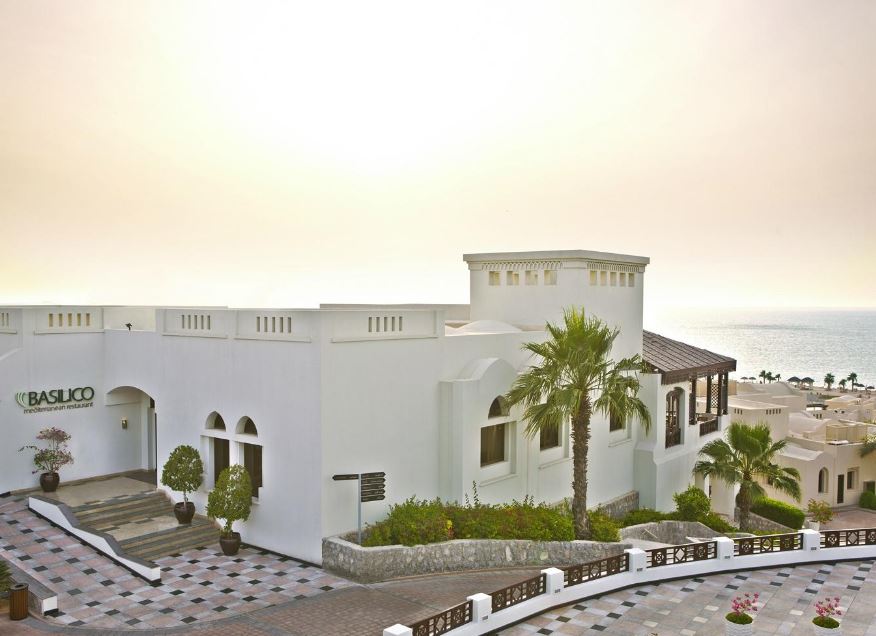 Basilico
Basilico is an award-winning restaurant in Ras Al Khaimah that serves a variety of cuisine that will definitely leave you craving more. You can find Italian, Mediterranean, European and Seafood being served here in plenty of dishes all cooked to perfection and full of flavour. Whether you choose to dine here for lunch or your evening meal, it'll definitely be an incredible experience for everyone.  Find more information here.
There are so many wonderful places to eat in Ras Al Khaimah with each restaurant featuring different cuisine. It's the perfect destination for fussy eaters and with plenty of places to eat, you'll definitely have some unforgettable dining experiences.