Dubai is all about living life in luxury, from the shopping outlets to the fantastic spa treatments, the city is sure to blow you away. If you have a keen eye for shiny things, why not buy some gold in Dubai? It sounds like a crazy idea, but trust us… during your Dubai holiday package, you just might be able to pick up some gold for a fantastic price!
You might be thinking what is the Gold Souk in Dubai? To break it down, Souk means traditional market – the Gold Souk is one of the most famous and most visited souks in Dubai and can be found in Deira. It is a must for tourists; be prepared to be blown away by the massive selection of jewellery made from gold, silver, diamonds and other precious metals and stones. Even if you're not looking to make a purchase, it is fascinating to browse what the Dubai gold market has to offer. With over 400 shops to browse through, we are sure it'll keep you entertained for hours. For more information, click here.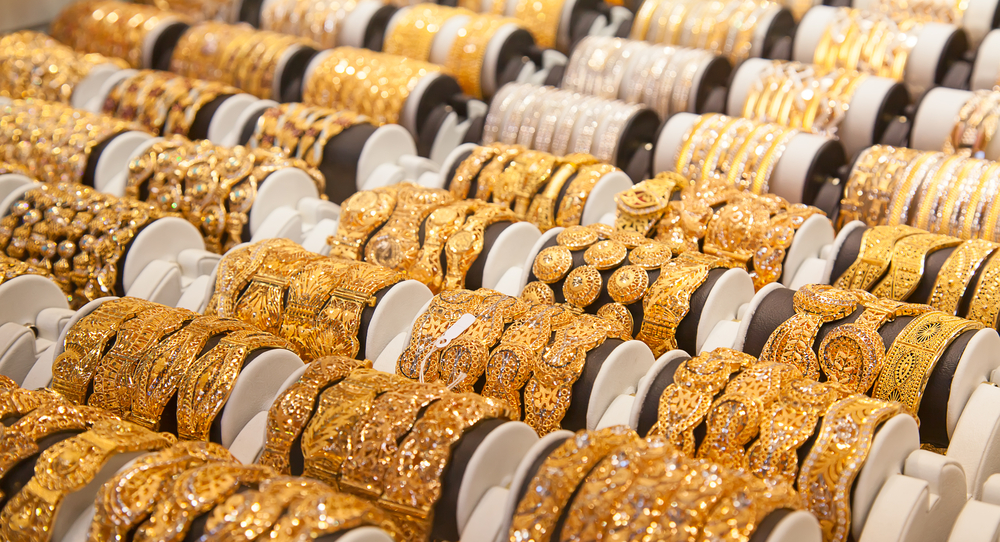 Buying gold can be an extravagant thing to do, however we've come up with some tips to help you get the best price you can for the gold.
Tip no. 1 – Know your gold. Gold is sold by carat and weight; with a bit of research before your trip, you'll be able to gain an idea of what the price should be for the amount of gold they are selling. The prices can change all the time, so before you head out to the Gold Souk, check online so you know what prices to expect when purchasing later on.
Tip no. 2 – Find something you like. Many of the sellers speak English and are more than keen to show you the range of products they are selling. If you find something you are thinking about purchasing, it's a good idea to find out what carat each piece is and what the weight of the gold is in grams.
Tip no. 3 – Be careful for fakes. It is a good idea to stick to the stores in the Gold Souk rather than shopping and the street stalls. Although they will be cheaper, they often sell fakes and will not fall under the same regulations that the shops do. At the Deira Gold Souk, the quality of pieces is monitored by the government so you can be sure it's the real deal.
Tip no. 4 – Shop around. Don't limit yourself to one shop; make a note of something you like in a certain shop and see if you can find anything similar for a lower price in any other shops. If not, you can always come back.
Tip no. 5 – Barter. Sellers often set their prices high because they expect you to barter. You should barter for a price that fits your budget however your power can change depending on how intricate the gold design is. Be prepared to walk away and come back before you have a reasonable offer. However, be flexible. Try and get as much money taken off as possible, if the seller won't take anymore off, just concede.
There you have it, how to buy gold in Dubai with 5 simple tips. It's not as hard as you think and it'll definitely be a fun experience when trying to find something you wish to buy. It is evident to see why Dubai is known for the city of gold with the fantastic gold shops they have on offer.