If you ask anyone who's been to Cuba where to go first, it is very likely they'll say take a trip to Havana!  If you're new to this Caribbean island, check out our tips for first timers in Cuba here; you definitely do not want to miss out on Havana however. The beautiful capital city has so much to see and do that you must visit Havana in Cuba while on your Caribbean holiday! We've come up with our top things you definitely do not want to miss when visiting the fantastic city.
Plaza Vieja / Old Square
One of the places to visit in Havana is Plaza Vieja which has a whole lot of history and is filled with a buzzing atmosphere. When built in 1559, it was originally used for military exercises and then turned into an open-air marketplace, but it didn't stop developing there. This square was also an underground parking lot however in 1996 it underwent a huge makeover and now it is a top place for tourists to visit. Filled with bars, restaurants and cafes, as well as a beautifully fenced fountain and some of Havana's finest stained-glass windows, it makes a fantastic evening to discover the local food and traditions.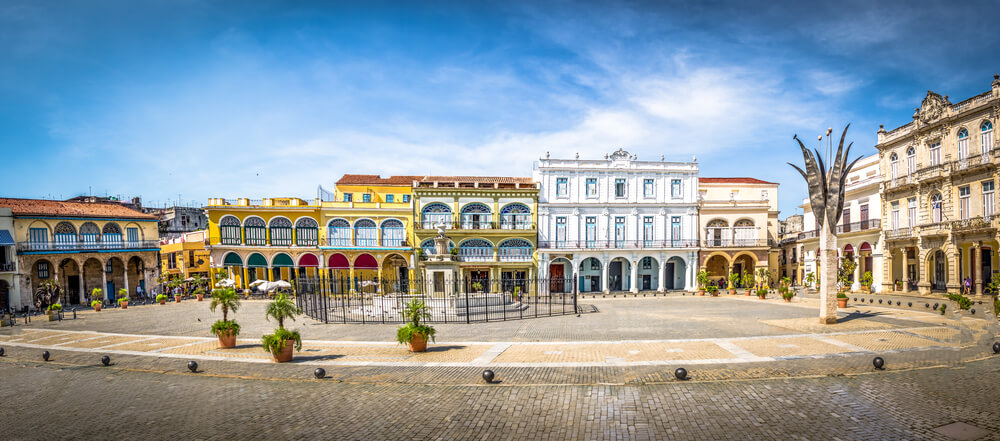 Plaza de la Catedral
Plaza de la Catedral is one of the five main squares in Havana now has some of the finest mansions in the whole of Havana. There are plenty of things to do in Havana and this square boasts a few sights that'll keep you entertained for hours. Located here is the Museo del Arte Colonial (Colonial Art Museum) as well as a number of restaurants for you try the local specialities.
National Museum of Fine Arts
Another brilliant thing to do in Havana is take a trip to the National Museum of Fine Arts which showcases Cuban art collections that have a lot of history; you can see artwork featured from 1868 to 2016, so expect to explore the art work and the history behind it. There are two buildings to discover, one dedicated to Cuban Arts and one to the Universal Arts. It is very popular with tourists, and it's so not hard to see why.
Paseo del Prado
If you're still looking for things to do in Havana, Cuba, why not take an evening stroll down Paseo del Prado. The streets are wide and pristine, lined with nature and beautiful architecture. As the weather starts to cool down in the evening, it is the perfect time for you to enjoy the sculpted street lamps, benches carved out of marble, the live performers and nightlife. It is a popular street which we are sure you will enjoy.
Central Park
This is one of Holiday Genie's top things to do in Havana as it represents all things Havana. This lively area often has taxi touts there with a variety of old style cars which is great for the car enthusiasts! You can also find live music, full crowds and a thriving atmosphere – it has often been described as the beating heart of Havana and it's not hard to fall in love with Central Park.
With so many places to visit Havana, it is a great way to start or end your Cuba holiday. With beautiful architecture, old cars and an excellent atmosphere to be found round every corner, it'll be a thrilling and unforgettable trip for all ages. You simply won't get bored of discovering a new area; what's first on your "things to do in Havana" list?