A romantic holiday in Dubai is certainly not hard to plan, especially with a variety of hotels made especially for the couples looking to celebrate their romance. The luxury destination is perfect for couples and has wonderful opportunities for both you and your partner to create some truly unforgettable memories. Holiday Genie has got the best hotels in Dubai for couples that will definitely impress your partner when you tell them where you're staying for a romantic holiday in Dubai!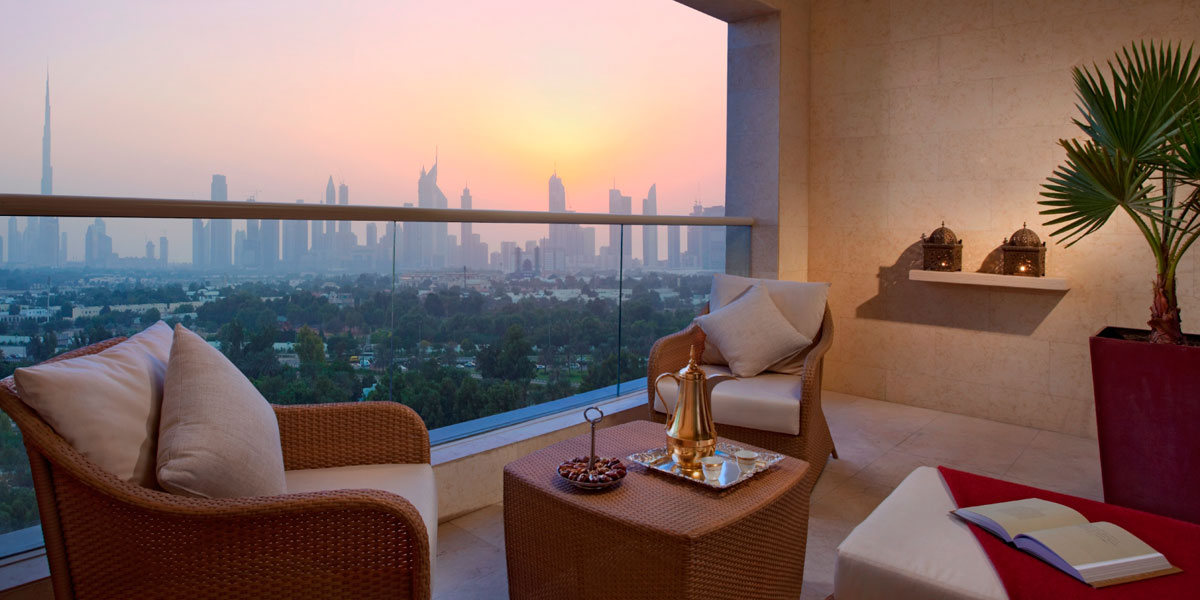 Raffles Hotel
The stunning 19-storey 5* Raffles Dubai is an award winning luxury hotel that really goes above and beyond any expectations. This romantic property has the perfect location being a reasonable distance from the airport and close to major attractions and landmark that you and your loved ones might wish to discover. With incredible service and a sophisticated style throughout the property, you can be sure to have a romantic stay here. If you fancy feeling romantic in Dubai by night, with a breath-taking view of the pool and Dubai easily seen, you'll definitely be feeling the love. Read more information here.
One&Only The Palm Dubai
One&Only The Palm is a beautifully elegant beachfront oasis that is nestled on the Palm Island that offers some of the best views of Dubai at night making it one of the best Dubai hotels for couples because of the relaxing and intimate ambiance. With a stunning beach just a few steps away from this modern hotel, you'll be able to spend your day relaxing with your partner or simply enjoying what Dubai has to offer. With intimate on-site restaurants and modern and spacious rooms, this is the perfect choice for any couple visiting Dubai. Find out more here.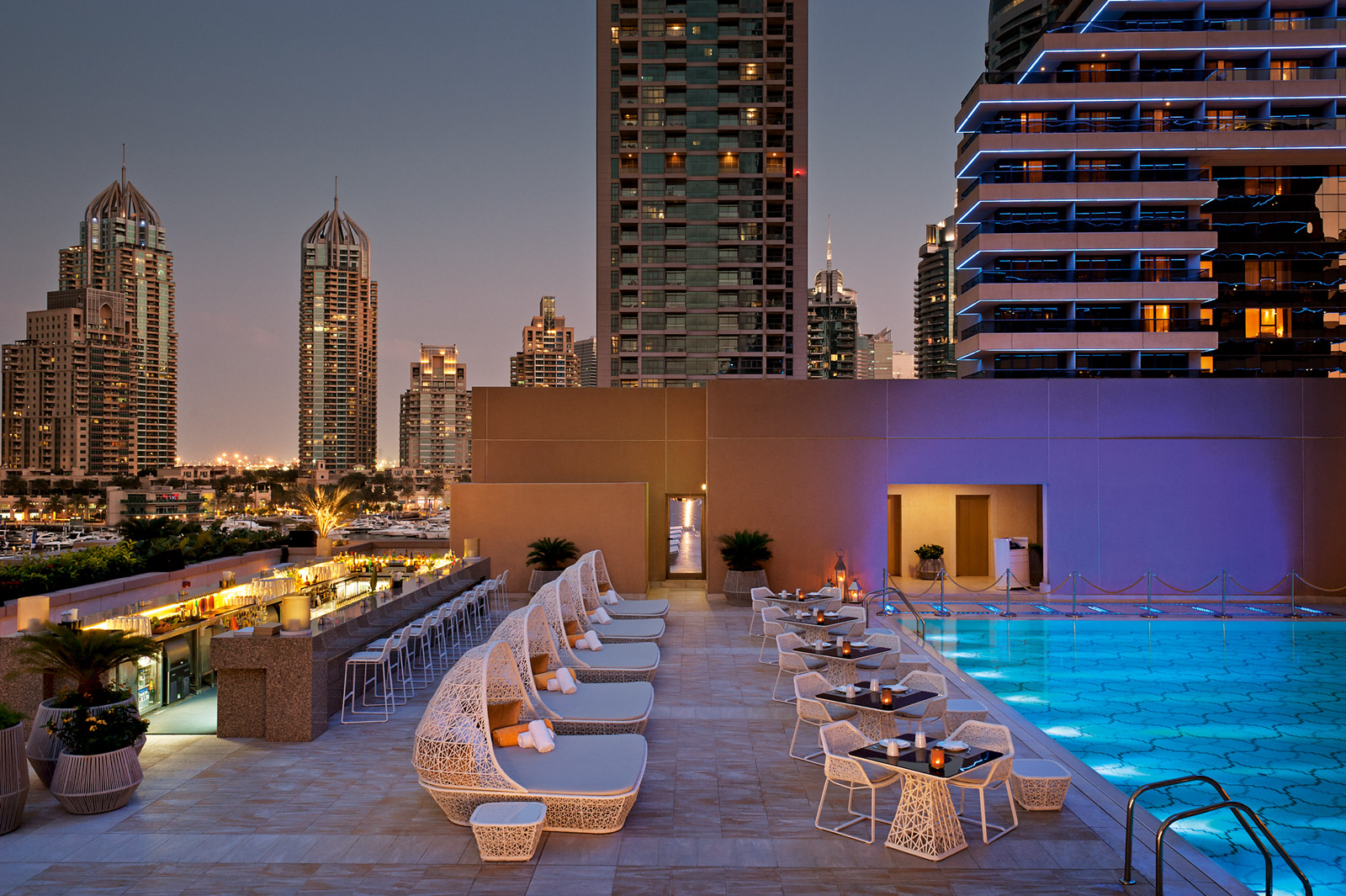 Grosvenor House Dubai
Another award-winning 5* intimate romantic hotel in Dubai is the Grosvenor House. The luxurious hotel is a recognizable landmark on the marina and features a stunning skyline view of Dubai's tall skyscrapers. The spacious contemporary rooms enable you and your partner to feel extremely comfortable, and with luxury on-site facilities with a romantic ambiance throughout the hotel you will definitely enjoy a sophisticated holiday.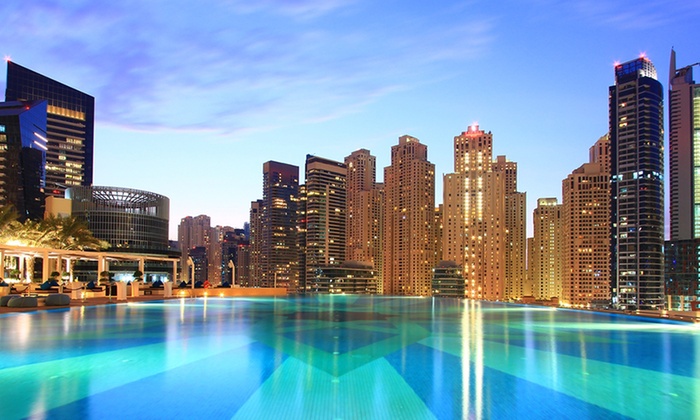 The Address Dubai Marina
The Address Dubai Marina will go above and beyond your expectations. It is one of the best Dubai hotels for couples winning awards and offering an infinity pool with breath taking views of the Dubai marina. This infinity pool will let you get one of the most desirable pools in the day and night with your partner, and you'll be feeling the love no matter where you are in this hotel. With shimmering architecture, the outdoor restaurant with an intimate ambiance and a sophisticated luxurious design, it's definitely one of our top recommended hotels for couples. Read more here.
Jumeirah Dar Al Masyaf at Madinat Jumeirah
Jumeirah Dar Al Masyaf at Madinat Jumeirah boasts TripAdvisor awards and is one of many romantic hotels in Dubai that will offer you and your partner the ultimate couples retreat. Couples will have their own Butler to their service in the villa style hotel, and with helpful staff and a romantic atmosphere in the day and night, you'll be separate from all the hustle and bustle so you can put your feet up in isolated luxury. You'll definitely leave feeling spoilt and more in love with your partner (and Dubai) than ever before.
The Palace Downtown Dubai
The romantic Palace Downtown Dubai is most famous for being perfectly located next to the Dubai fountains so you and your partner can have your own private viewing from the beautiful on-site restaurant. All of the facilities are impressive, including the desirable location in Downtown Dubai and the staffs are more than happy to go above and beyond to assist and make your stay even more special.
There are many more luxury and romantic hotels in Dubai for your ultimate couple retreat, that you shouldn't delay visiting the spectacular city. You'll leave feeling relaxed, in love and definitely wish you didn't have to go home.