It's December; nobody can tell us it's too early to talk about Christmas now, right? So where do you want to go this Christmas? Change it up and go elsewhere, break your family Christmas tradition and get stuck in with unusual Christmas traditions around the world.
Czech Republic – Marriage
Normally this tradition would be considered as something for marriage rather than a weird Christmas tradition.  Unmarried women then stand by their front door and throw their shoe over their shoulder. If the toe of the shoe is pointing towards the door it means that they will be getting married in the next year. Would you believe a shoe could tell you your fortune?
Japan – KFC
Advertising can be extremely powerful, and proof this was given in Japan. In 1974 KFC ran a successful marketing campaign and now one of the unusual Christmas traditions is for Japanese families to eat at KFC on Christmas Day. The brand also brought out the "Christmas Chicken" which is the next best thing you'll get in Japan over Christmas Dinner. There are definitely some unusual foods to discover while travelling and Japan certainly has a few alternative options to your traditional Christmas dinner.
Slovakia – Pudding
Another weird Christmas tradition is throwing food on the ceiling in Slovakia. The most senior man must take a spoon full of loksa pudding and throws it onto the ceiling and the more it sticks to the ceiling the better. If you're spending Christmas in another country, the hotel may not appreciate you throwing pudding on the ceiling but we're sure you could give it a go.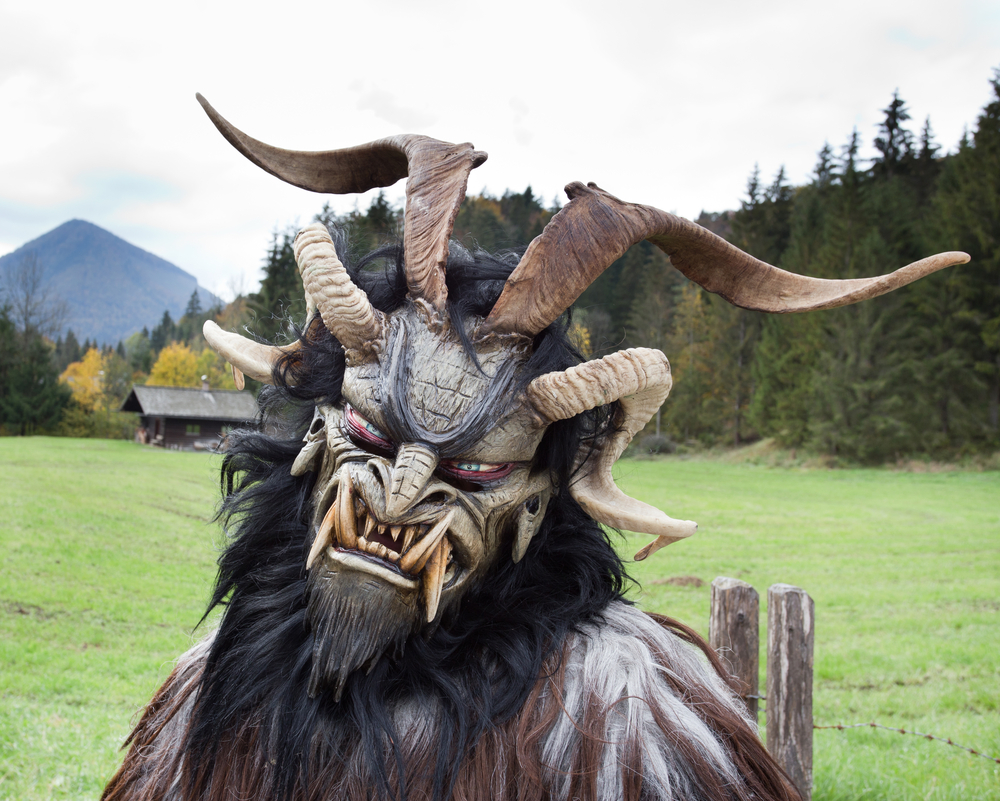 Austria and Germany – Krampus
Christmas time is a time for laughs and joy, but not for children in Austria and Germany. Krampus is Father Christmas' devilish friend who is very frightening. He is believed to punish the bad children at Christmas time and with scary representations of him, there's no wonder why Children live in fear throughout the festive period. Krampus now has his own film so this unusual Christmas traditions is definitely coming more to life for kids.
America – Running
We've discussed a few different celebrations around the world; however the USA tradition has to be one of our personal favourites. Everyone dresses up as Santa and goes on the unusual Christmas tradition gathering scores while taking part in a very large bar crawl. The ultimate Santa wins so if you love a pint and fancy getting in the festive spirit this is one to take part in. Click here for an example.
Finland – Remembrance
On a very different note, Finland's Christmas tradition is to mark the festive period by remembering the dead. Families will go to the graves and light candles at the foot of graves of their loved ones; this makes graveyards a beautiful sight. It's definitely a very sweet Christmas tradition.
Italy – No Santa
Of course, different celebrations around the world wait for a different Santa but Italy doesn't wait for Santa but instead Befana. Befana is a friendly witch which delivers the presents and sweets on the 5th of January instead of Santa Clause.
There are plenty of Christmas traditions in other countries, some very strange and some very sweet thoughts. If you're looking to break some of your traditions you could explore another country and their way of celebrating the festivities – so where to first?