With Christmas slowly but surely dawning on us, so does the struggle of finding the perfect gift for loved ones. Whilst you might think purchasing flight tickets for your jet-setting friend might be a great idea, your bank account may beg to differ. We've searched high and low to find the ultimate Christmas gift for any adventure traveller that will quickly become a travel necessity.
Power Traveller offers a fantastic product called the Powermonkey Explorer 2 which is an incredibly strong AND waterproof mobile charger. For the back-packers, their mobile phones will most likely be their best friend whether that is to take photos or guide their way. But where can you find a plug in the middle of a National Park or mid-travel?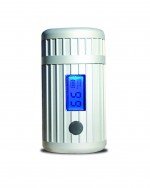 The Powermonkey Explorer 2 is a handy and efficient device offering multiple device charges out of a small and compact unit. To give you an example of how many charges this small device really can offer, it can fully charge an iPhone 5 up to three times, a GoPro Hero3+ four times and a Garmin Edge 1000 four times.
However, the PowerMonkey Explorer 2 is fully compatible with nearly every device including (but not limited to) tablets, digital cameras and apple products.
We understand accidents may happen and sometimes items can appear to jump out of your hands, however, the Powermonkey Explorer 2 is the toughest portable charger in the market – it can withstand a Land Rover Defender! As well as being incredibly strong, it can also withstand water and the harshest of environments. Both the cable and unit will remain strong and waterproof in nearly every condition making it an essential for every adventurous traveller.
The strong and rugged design not only makes it incredibly easy to hold and use, but also sets it apart from any other portable charger. This is the ultimate upgraded charger & will quickly become a traveller's best friend.
The multi-use PowerMonkey Explorer 2 is available from Power Traveller at a retail price of £79. Any adventure traveller would dream of having this gifted to them this Christmas.
Save