New York City has many areas that you might not know about including Brooklyn and Governors Island. If you're looking to step foot off the iconic city and explore areas around the skyscrapers, there are plenty of things to do on Governors Island. Enjoy New York from afar with these top things to do!
Please be aware that Governors Island is a seasonal island and opens for summer. Please check here for the official dates of opening and closing.
Holi Hai Festival of Colour
Governors Island has its fair share of events and hosts the Holi Hai Festival of Colour on its opening weekend which is a great way to kick off your trip. The festivities kick off with live music and dancing where you will get to throw powdered colour all over each other; you will come out looking like a rainbow! Just remember to wear white clothes and pack some spare clothes otherwise your suitcase will be covered in the chalky colours. Check it out here.
Adventures at Governors Island
For kids, there are plenty of things to do in Governors Island with an impressive array of playgrounds, and the newest landmark is Adventures at Governors Island which is great for kids and adults alike. You can take to the skies on a zip-lining adventure, hoist yourself up the climbing wall or get lost in the maze. How could you say no to a beautiful view of Statue of Liberty whilst soaring through the skies on the zip-line?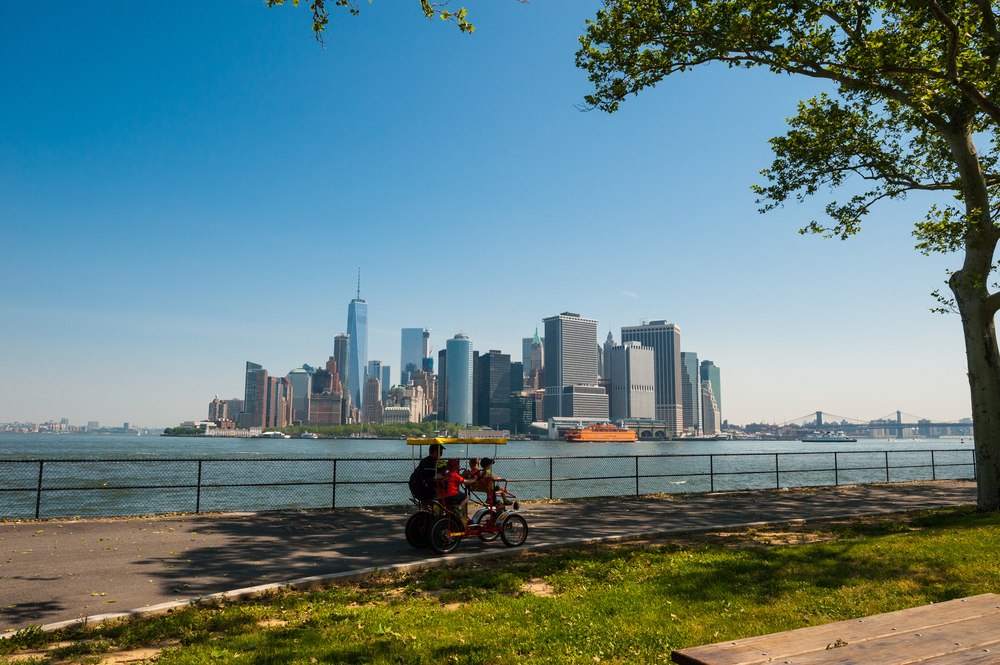 Free Bike Mornings
There are plenty of things to do in New York for free, and what a better way to discover Governors Island than on your own two-wheeled transportation for FREE. The island features many excellent cycling paths where you can also be treated to a skyline view of the Big Apple; you can borrow a bike for free every morning for an hour between 10am and 12pm. Everyone loves a leisurely cycle!
Picnic in the Park
This seasonal playground is essentially one big park, offering opportunity to breathe, relax and admire the busy city from afar. How can you make the most of it? Bring some food with you, find the perfect spot on the lush green on Governors Island and enjoy a delightful picnic in the park. It's an excellent way of admiring the peacefulness but still being within sight of the iconic skyscrapers.
Pinknic
If you're going to visit any seasonal event, Pinknic is the largest and the one to visit. It is a rosé picnic and music festival where you can enjoy champagne or sparkling wine in the morning and in the afternoon get a little lively with the live DJ sets. The dress code is white and pink and enables any wine fanatic to celebrate their love for rosé. With live performances going on until late at night, it's the ultimate seasonal event to enjoy. Click here to read more information.
There's so much to enjoy you won't be wondering what to do on Governors Island anymore. This beautiful seasonal park is great for taking a breather from the iconic and incredible city, but still being reminded of where you are with the iconic view. It's also perfect for taking that stunning skyline picture!