When you hear drinks with a view, you'll probably think of rooftop bars in Las Vegas but NYC is also home to some excellent bars. The spectacular city is home to breath-taking panoramic views of the tall skyscrapers and the rooftop bars in New York offer the perfect opportunity to see the city light up at night whilst being in the heart of the action. For your next New York trip, escape away from the tourist attractions at night and head to some of the best rooftop bars in New York.
The Strand Rooftop Bar New York
The Strand Rooftop bar is on the list for the best 10 rooftop in the world which is a very impressive title and this rooftop bar is certainly worthy of it. It is an intimate bar that offers breathtaking views of the city whilst being in the heart of the action on the 21st floor. At the top, there is a retractable roof which will really transform your evening so you are quite literally drinking delicious cocktails under the stars. Check it out here.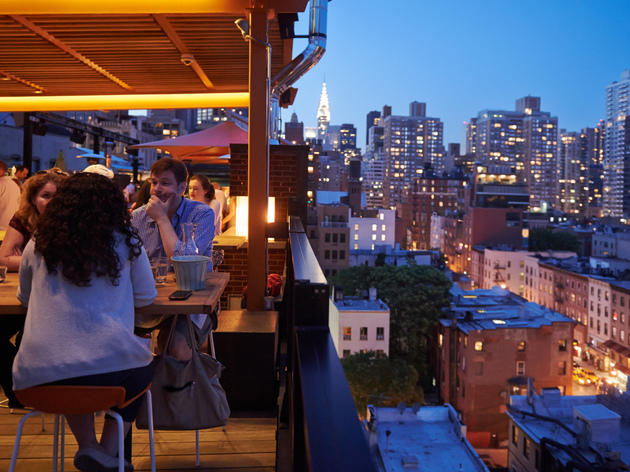 Roof at Park South
Another spectacular must-visit rooftop cocktail bar in New York is the Roof at Park South. This excellent lounge offers a wide range of delicious cocktails; live DJ's and delicious Mediterranean food all combine to create a fun evening with unobstructed views of New York City. It's a hotspot for locals and tourists and it's not hard to see (or taste) as to why this is the case, so be sure to add this to your rooftop bar crawl in NYC.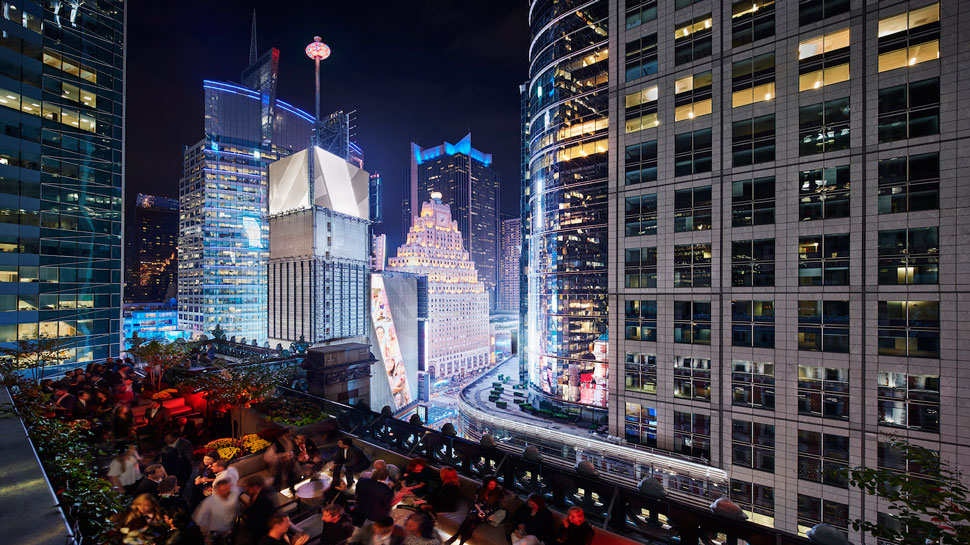 St. Cloud
For an evening feeling like a VIP and enjoying drinks with a view perfectly complimented with an elegant and glamourous atmosphere, head to St. Cloud. The furnishing of this rooftop lounge is superb and is self-proclaimed to be the "ultimate rooftop bar in NYC". As well as enjoying your drinks here with a view of NYC, you can also make the most of the cigar lounge & delicious small plates that are to offer. What attracts locals and tourists to this bar most are the three plush corners "Sky Pods" that present some of the best views of Times Square. Read more about this spectacular bar here.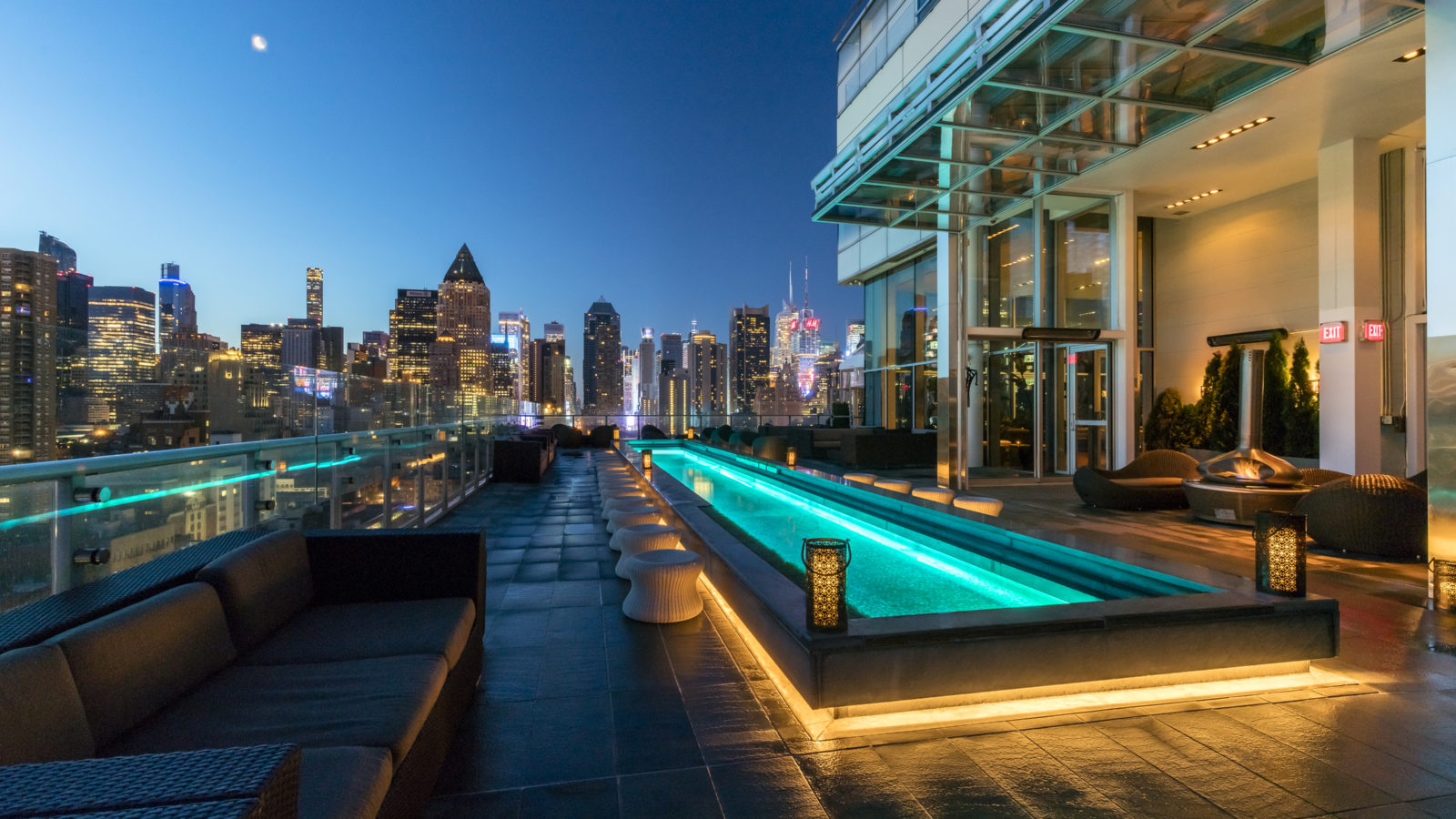 The Press Lounge
We've spoken about some great bars in New York with a view, but The Press Lounge might just beat them all with panoramic views of the city and Hudson River. Whether you want to visit this bar located on the edge of the city in winter or summer there are indoor and outside seating options so you don't have to miss out on the spectacular views. With world-class service too, this bar aims to let the dramatic views do the talking and blow you away.   You'll certainly feel like a celebrity visiting here, you can't miss out on it – find more here.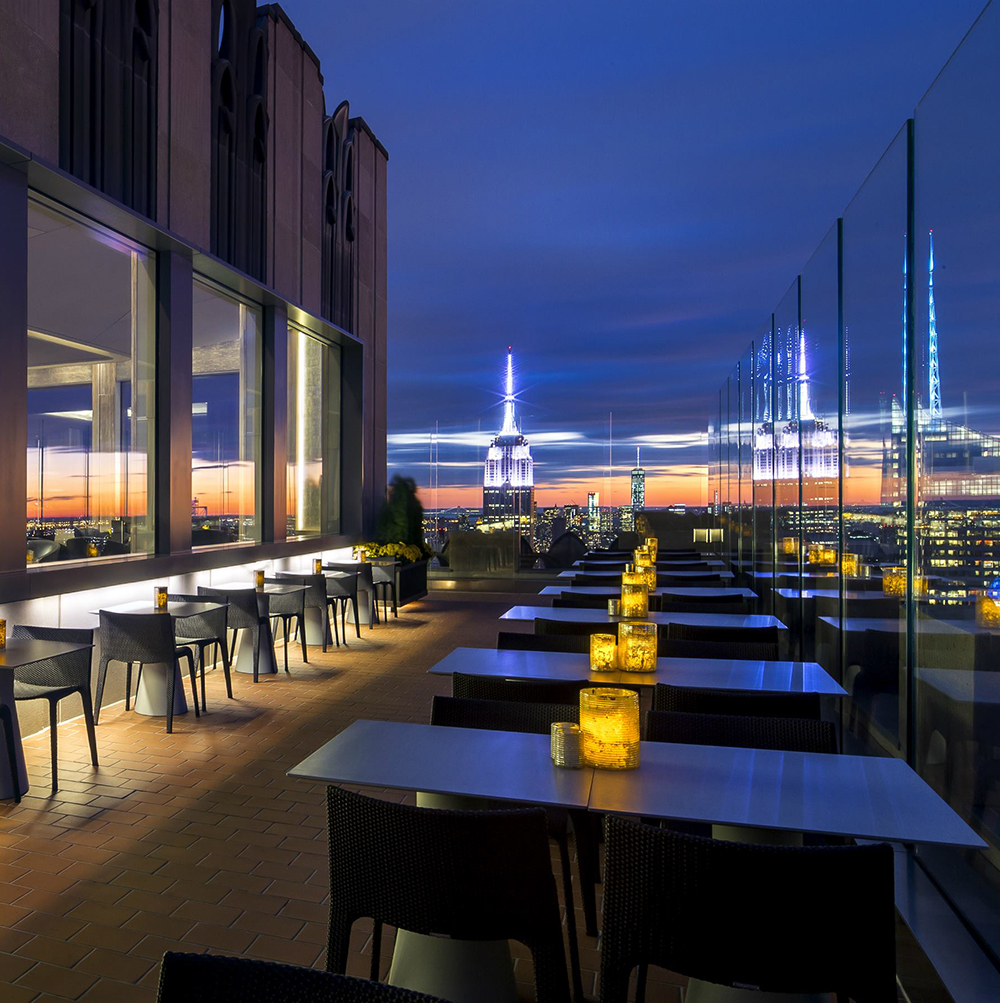 Bar SixtyFive
If you're going to visit just one rooftop bar in NYC on your trip, you have to make it Bar SixtyFive which has been named New York's tallest terrace bar located just above the famous landmark, the Rockefeller Centre. You will be guaranteed an astonishing view of The Empire State Building; you will definitely be in for a treat. Alongside the view, there are masterfully mixed cocktails and delicious menu that you can indulge in – you will feel like a true New Yorker here.
With plenty of rooftop lounges in NYC to choose from, you can really experience the city that never sleeps and see how much more beautiful the Big Apple gets as the sun goes down. We recommend pre-booking as many of these can get very busy, especially in the summer.