New York is an incredible city, without any doubts and with the winter months quickly approaching, the Big Apple is getting ready for its Winter Wonderland transformation. Of course we all know about the famous Ice Rink which is a must, but what if we told you about some fantastic Christmas lights in New York? Read this post with warning because we can guarantee you will want to book an inspiring holiday to New York immediately after.
When do the lights go up?
You might be thinking to yourself, when do the Christmas lights go on in New York? The majority of Christmas Lights go on at the beginning of December with huge events to mark the switch on however if you miss the switch on, don't worry; the Big Apple has such a variety of lights and wintery things to do, that we're sure your holiday will still be extra special.
Rockefeller Center Christmas Tree
This huge city has some of the brightest lights at Christmas time. We can't forget one of the most well-known Christmas trees in the world; Rockefeller Center Christmas tree. This annual tree lighting ceremony is free to the public and for years thousands gather to get in the Christmas spirit. It is a great opportunity to take some postcard-worthy photographs of the tree with its tens of thousands environmentally friendly LED lights lit up!
Fifth Avenue
Fifth Avenue is well known for its prestige shopping and high-end designer shops; the avenue has some of the most iconic stores including Tiffany and Co, Lord and Taylor, Bergdorf Goodman and many more. Each shop try to out-do each other with some eye-popping colourful window displays. Visiting in the evening will ensure you see each window shining bright with the lights on and will make a fantastic evening walk.
Macy's
Some of the best Christmas Lights in New York can be found at the world's biggest department store, Macy's! The store transforms into a winter wonderland, much like the city in the winter months. You can expect to find anything and everything to do with Christmas from interactive fake snow, giant toy soldiers and more.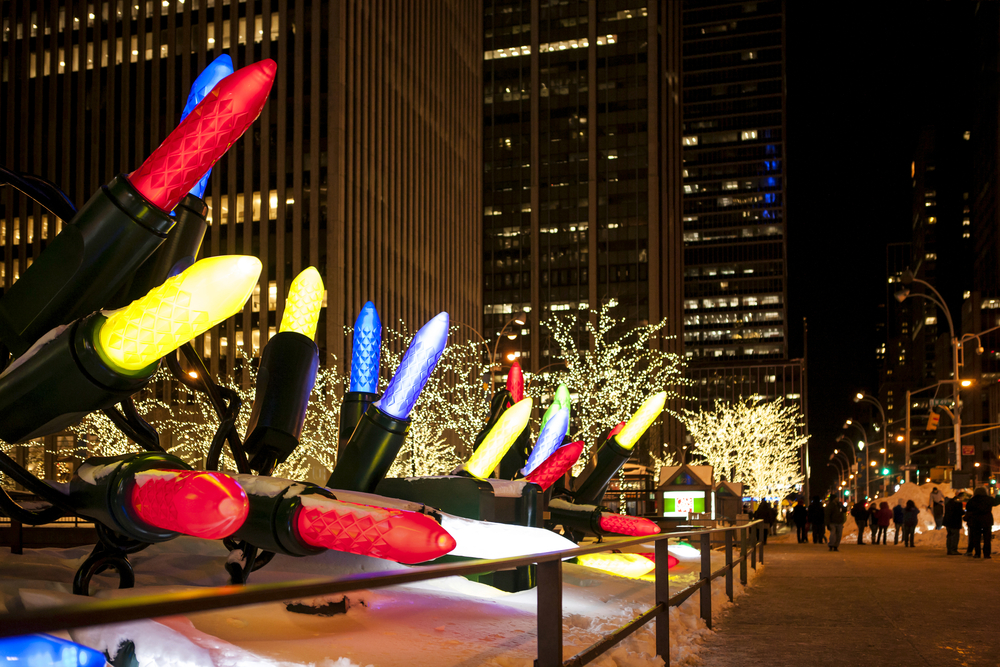 Park Avenue
One truly remarkable place to visit for Christmas Lights is Park Avenue. Hundreds of trees are lit up along a 2.5 mile stretch which represents Christmas perfectly. This tradition began in 1945 for the families who wanted to honour those who died in World War II. The trees are a symbol of peace and a reminder of those whose lives were lost fighting for America. It is a beautiful opportunity to reflect and remember those as well as enjoying the colourful decorations.
New York Christmas Lights Walking Tour
With so many fantastic Christmas lights in New York, you may be thinking how you're going to view them all? There is a fantastic Free New York Holiday Lights Tour available which will ensure you see some of the best lighting and window displays in New York. It is a free walking tour and you get to decide what you want to pay, if anything at all! Along your tour you can expect lots of holiday music and festive cheer to keep your spirits up in the cold weather. For more information, click here.
Christmas Lights in New York are some of the most famous world-wide and we are sure that everyone will enjoy the colourful parade to celebrate that Christmas is near. It is a fantastic opportunity for families and couples to get in the Christmas spirit and be amazed by what the city can offer during the winter months.