You probably hear us rave about the wonderful meal plans at Disney World that are released every year. Most people go wild for Free Disney dining, and they are usually great if you want to save on food at Disney World… but do you really need one? Holiday Genie has listed both the pros and cons to the meal plans at Disney so you can decide for yourself if you really do need one on your upcoming trip.
How Disney's Dining Plan Work
Before you find out about the pros and cons of the dining plans you need to know how they work.  So, firstly your meal entitlements are loaded onto your MagicBand. Then when making your purchase you have to touch your MagicBand onto the magic point. Finally, your waiter will give you a receipt with your updated meal balance.  But there are no limits, if you want to eat light one day and order everything the next then you can simply redeem multiple meals or snacks until you have used up all your magic points!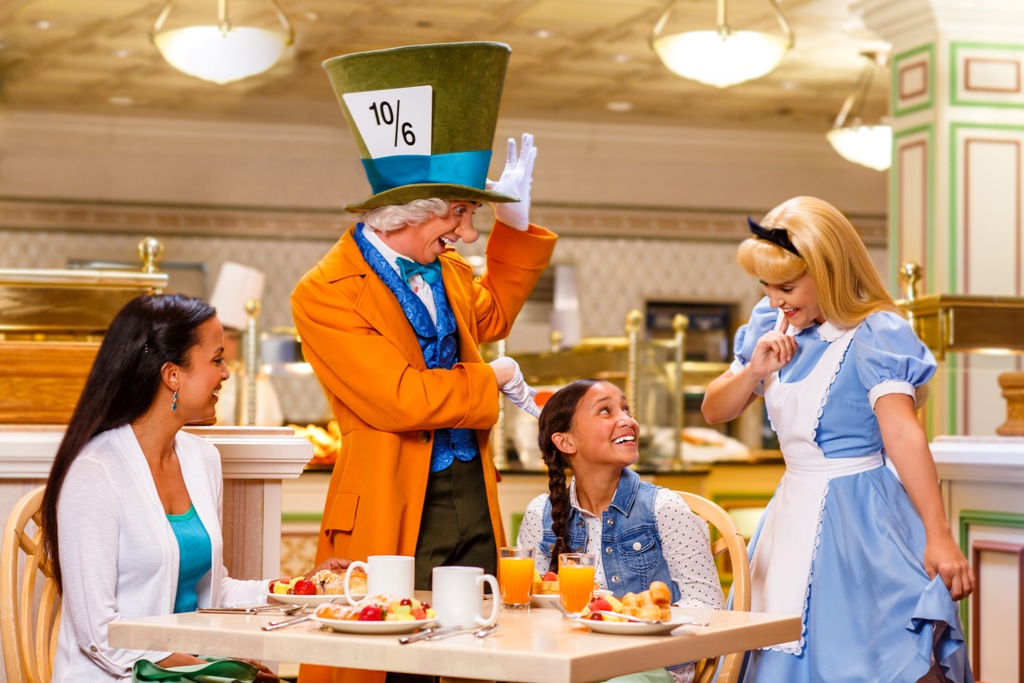 Reasons to purchase a Dining Plan at Disney
You can make reservations up to 180 days in advance, so if you are going away for a special occasion and know exactly where you want to go – then you can make sure you book your favourite table in your favourite restaurant way ahead of time.
There is no need to carry cash around, so you can feel safer in the park knowing that you are not carrying around a load of money for your family evening meal. You simply need your Magical Band and your belly's.
Planning and budgeting in advance is easy and means that there is no need to worry about not having enough US Dollars when dining as all the money you need are on the bands.
You can enjoy a wide variety of dining which will keep the whole family happy. From fine dining to healthy choices and even dinner with Mickey Mouse himself!
They are very flexible with dietary needs simply make a note of the dietary request when making the reservation and speak to the manager upon arrival at the restaurant and they will sort out the rest.
New Meal plans at Disney World will include several new beverage options including non-alcoholic specialty drinks (for the under 21s) and then a selection of beer, wine and cocktails for the adults.
Plans to choose from:
There are many plans which you can choose from; whether you want a quick-service to deluxe you can have it all!
Quick-Service Dining Plan– this includes 2 self-service meals, 1 drink per meal, 2 selected snacks and one refillable mug. This can be used at breakfast, lunch or dinner. Or you could go for the
Disney Dining Plan– this includes 1 waiter service meal, 1 waiter serves meal, 1 self-service meal, 1 drink per meal, 2 selected snacks and 1 refillable mug.
Deluxe Dining Plan– this includes 3 waiter or self service meals, 1 drink per meal, 2 selected snacks and the refillable mug.
You can choose from these three options depending if you want something quick so you can spend more time in the park; or if you wanted to spend a little bit more and a sit down meal where you can talk about your day in the park with your family over dinner.
So if you needed anymore reasons to go to Walt Disney World then this should do it, so book your holiday today with the dining option that fits best with you, as they are great way to budget meals, meaning you can spend that extra bit of money elsewhere. Maybe on a hotel or Fast-track tickets!