Dubai is a city well-known for the luxurious lifestyle and fascinating culture but what if you're worried about the price of a holiday there? Dubai is seen as a luxury destination however you can still have a fantastic holiday to Dubai for a cheap price; with fun activities for the whole family to enjoy that means you won't need to worry about going over your holiday budget. An amazing experience is swimming with the dolphins in Dubai, and with plenty of opportunities to do so we are sure that this is an experience you will never forget.
Dolphin Bay
Dolphin Bay, which is part of The Atlantis hotel, is a brilliant place to go if you're looking at treating the family and yourself. The luxurious hotel offers a variety of experiences including their Dolphin Encounter and Dolphin Adventure. The Dolphin Adventure is more of a one-to-one dolphin experience. Because of the variety of interactions to choose from, it makes it a suitable experience for all ages and swimming abilities meaning no one misses out on the dolphin experience. The hotel even offer custom-made experiences so if you're looking to tick off swimming dolphins in Dubai off your bucket list, this is the place to go. If you're looking for a fantastic place to offer an experience the whole family will remember, Dolphin Bay in Dubai is a must.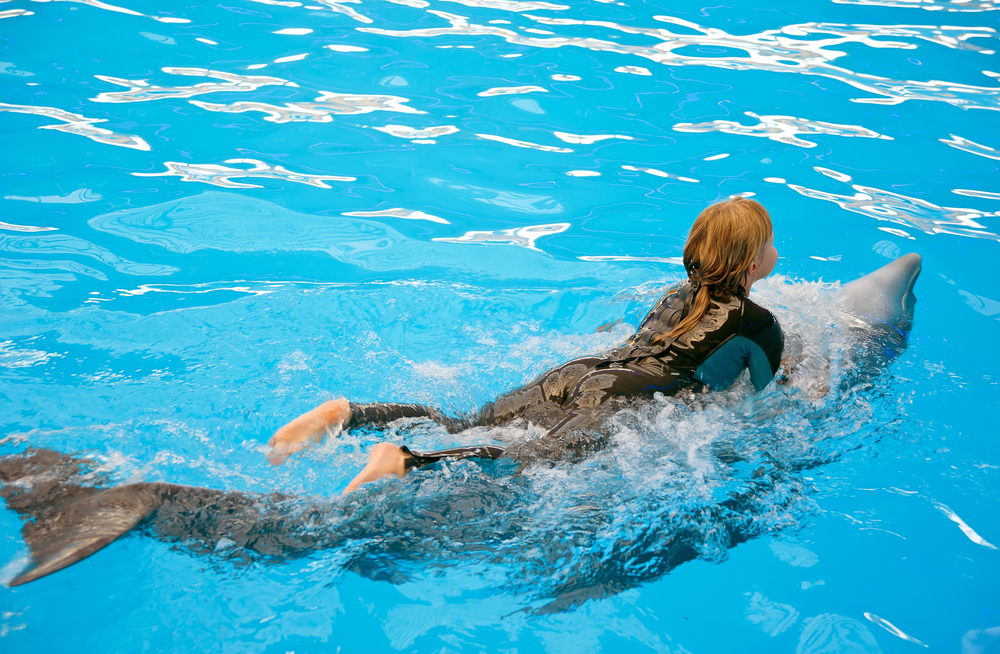 Funtours Dubai
Fall in love with the dolphins at Funtours where you will be able to swim with the dolphins and interact with them and enjoy being pulled around by their fin while creating a memory you will remember for life. During your session, professional photographers will take your photo with the dolphins, just in case you want to show off to your friends what you did out in Dubai.
Dubai Dolphinarium
The famous Dubai Dolphinarium also offer an incredible experience to swim with the dolphins but also have mind blowing dolphin shows throughout the day. If you're looking to join the most lovable creatures of the ocean, you should definitely visit the Dolphin Planet at the Dolphinarium. From the poolside or deep water adventures, you will have the most amazing time with the dolphins in Dubai. During your one-to-one time with the dolphins, you'll be able to swim, hug, touch and hold onto the dolphins as they swim around! If you're lucky, you might even be able to dance with the incredibly beautiful mammals. The instructors have plenty of knowledge about the majestic animals, so top up your knowledge during your dolphin experience in Dubai.
Swimming with the dolphins in Dubai is an absolute must with some of the best sessions available, it is sure to make your friends jealous of the wonderful experience!
Save
Save