Who would have thought that New York of all places would have so much to discover for nish, nada, no cost at all?  Yes, it took me by surprise as well, a very pleasant surprise and helped make my break to the city even more enjoyable.

I started planning my trip by researching what there is to do during a long weekend break in New York, I wanted to take in the Empire State building, Metropolitan Museum of Art and Ellis Island but was mindful that these attractions would take a hefty chunk of my spending money.  Luckily for me whilst researching I came across this post and I was overwhelmed by the amount there is to do for free.  Whilst in the city I visited a lot of the free attractions and to help others I've written about my 5 best free things to do in New York.
1.       Central Park
Yes I know most parks are free but this isn't just any park, it is the world famous Central Park.  Covering 843 acres in the heart of Manhattan, it is a great park to visit anytime of the year – come snow or shine!  It is jam packed with free events, beautiful statues such as the bronzed Alice in Wonderland and sites like Strawberry Fields which is a memorial to the late Beatle, John Lennon.  If you need to escape the hustle and bustle of the city then the Pond in Central Park is the place to visit, offers an immediate reprieve and is so delightful.
2.       City Hall
Free tours of the City Hall must be reserved in advance!  Since 1812 the City Hall is home to New York City's government, on the tour you will get to see the cupola-topped marble hall, governor's room and the place where Abraham Lincoln's coffin briefly lay.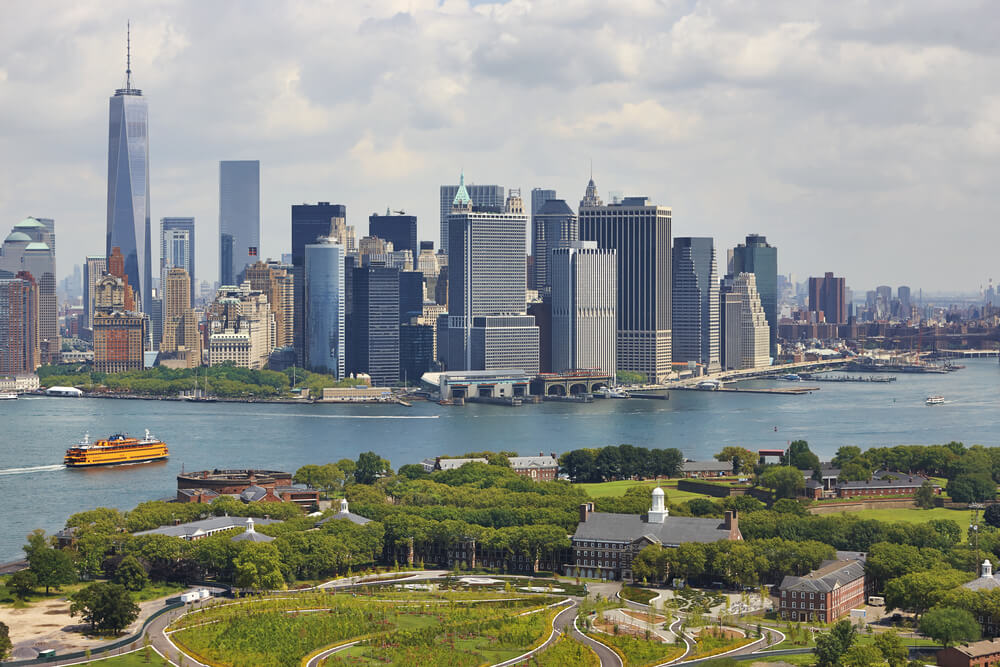 3.       Governor's Island
Most things on Governor's Island are free including the ferry to get there (although there may be a minimum charge for this service shortly).  It is located in New York Harbor and was previously a military base.  Now the 172-acre island is open to the public, you can go for bike rides, art exhibitions, picnicking and lots more.
4.       Brooklyn Bridge
Completed in 1883 the Brooklyn Bridge is one of the oldest steel-wire suspension bridges in the US, it links Manhattan to Brooklyn.  You must take a walk over the bridge as it allows for wonderful views over the city.  At the Brooklyn end the area has been redeveloped with parks, piers and a carousel and at the Manhattan side it is near to the City Supreme Court and City Hall.
5.       High Line
High Line is an elevated park built on an abandoned stretch of railroad track.  The project started in 1999 and took 10 years to complete.  Now the one-mile oasis link allows wonderful views of Chelsea below and the once railway tracks are now covered with flowers, benches and fountains to be experienced.
Above is just a snap shot of the free attractions in New York to be enjoyed, there are also free concerts every Saturday evening during the summer in Prospect Park, Brooklyn.  Then on Fridays the MOMA (Museum of Modern Art) has a late night opening and hands out free tickets from 4pm.  Also on Friday evenings between 6-9pm you can enter The Whitney Museum where you can explore American art for a donation, as the usually high entrance fee is dropped.  On Wednesday it is 'pay-what-you-wish' donation at the Bronx Zoo, where you can see a variety of animals from lions to gorillas.
Pay a visit to the New York public library which is very impressive and at certain times of the year holds free events such as art exhibitions and dance shows and if you visit the city during the summer there are some wonderful free outdoor pools to cool off in.
There is a half-court in the NBA store where you can try out your basketball moves – frequently visited by NBA players themselves, plus there are a number of free basketball clinics and events at the store throughout the year.  I could go on!
To make the most of your New York break make sure you include some of the free.
Save