The excitement of finally being on your package holiday to New York might mean you forget about breakfast… but when in the "Big Apple" you don't want to miss out on the breakfast places in New York. They look as good as they taste and there are so many places to enjoy breakfast, that it might become your new favourite meal of the day. With so many incredible places to eat, we've come up with our top recommendations of the best places for breakfast in NYC.
Pershing Square
Pershing Square is a delicious place to go for your New York breakfast. Located opposite Grand Central Station, it is relatively close to all major attractions in the city so you can easily get to where you wish from this restaurant. It has been described as the "busiest and best breakfast in New York" and we certainly agree. From delicious pancakes to the full works, you'll be sure to have a fantastic start to your day here. Check out Pershing Square here.
Santina
Santina is a lovely restaurant with a beautiful Miami vibe; it is an excellent place to go to start your day in the big city. This Italian restaurant offers a great breakfast place in New York with a variety of different dishes to taste. The menu sounds delicious and it is a party in your mouth! You'll want to relax in this laidback restaurant all day after breakfast, but there's a whole city to explore so fill your tummies!
The Shop
Breakfast in Midtown NYC would not be the same if you didn't stop at The Shop. This breakfast place offers some unique dishes that are full of flavour. It is one of Midtown's secrets but we are sure you won't be disappointed when you dine here. It is a formal breakfast place, so you might want to leave the ripped jeans at home, but it is well worth it with the delicious cuisine they boast on their menu.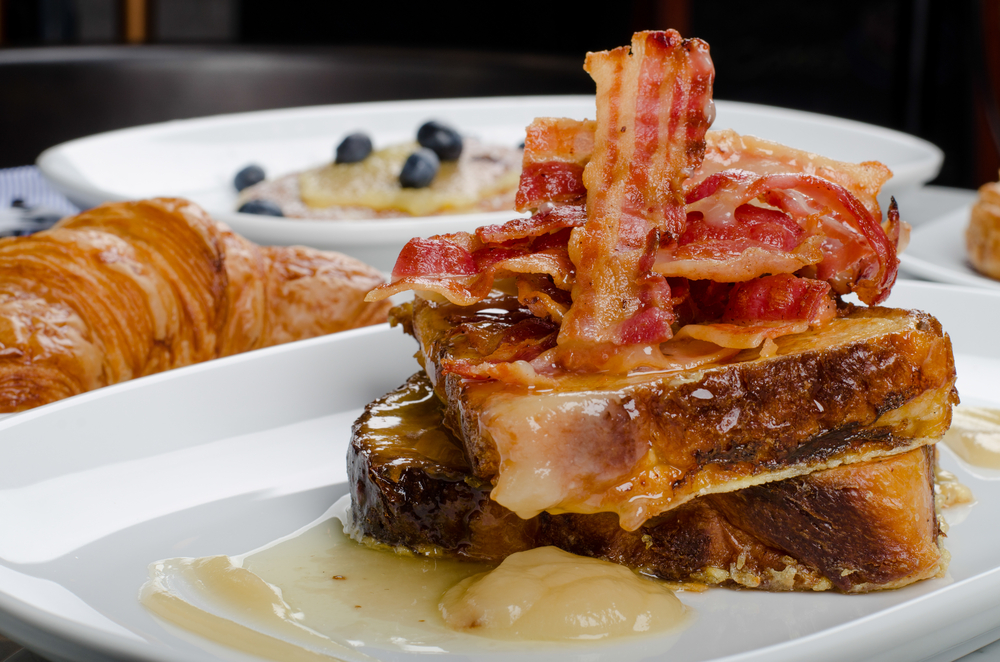 Pies 'n' Thighs
Ever had chicken and waffles for breakfast? Head to Pies 'n' Thighs for one of the most unique breakfast places you can find in New York. They sell the breakfast menu till 4 p.m. so if you're passing by you should definitely check it out. Expect to see chicken and waffles, biscuits and gravy, egg breakfast and many more on the breakfast menu… sounds delicious already, doesn't it? It is one of the best places for breakfast in NYC if you're looking to try something unique! Check Pies 'n' Thighs here.
City Bakery
The City Bakery is located near Union Square is always busy and it's not hard to see why. They sell some delicious and unique breakfast pastries like the pretzel croissant or the cinnamon-y baker's muffin. With a range of breakfast foods available, you'll be sure to have a great start to your day in this two-level cafe. They also sell delicious hot chocolate and coffee that you'll love even in the summer months.
There are some fantastic places for you try the best breakfast in New York that'll you want to dine at a different place each morning. Don't forget about eating before discovering the city, we are sure it'll become your new favourite meal of the day… so how does a holiday to New York sound now?